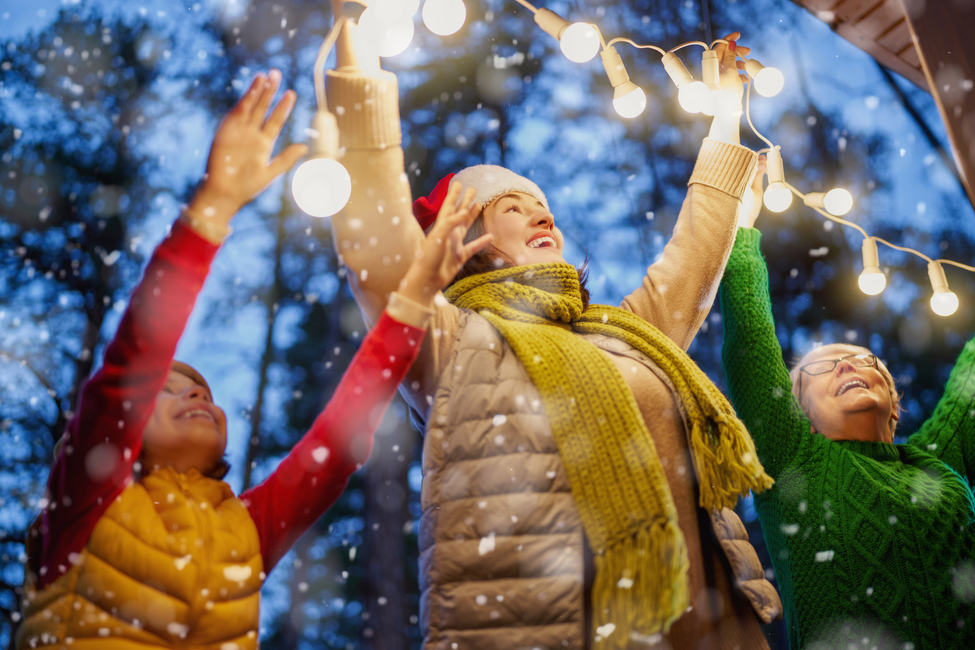 Deck the halls without harming your home.
You don't need to drill holes in your walls to make things merry for the holidays. In fact, using nails or a staple gun to hang lights from a roof or gutters can create small holes, which lead to leaks down the road.
Thankfully, we've come up with some helpful tips for decorating your home without causing any damage in the process. The holidays are already expensive enough, and you shouldn't need to worry about spending extra money to repair damage caused by decorations every year.
Check out our "Naughty or Nice Holiday Decorations List" to find out how you can decorate for the holidays without having to worry about painting or filling holes when it's all said and done.
Naughty or Nice Holiday Decorations List
Naughty: Hammers and drills
Nice: Adhesive clips, shingle clips, and gutter hooks
Ditch the drill and hang outdoor lights from adhesive clips, shingle clips, or gutter hooks. Adhesive clips work on smooth surfaces, like vinyl siding. And shingle clips help position lights on top of your roof.
Tip: You can get S–shaped gutter hooks at a home improvement store. Press the top half of the gutter into the hook and string lights around the bottom half. Just make sure not to add too much weight to your gutters!
Naughty: Wax candles everywhere
Nice: Battery-powered candles
Instead of using real ones, place battery-powered candles on your windowsills.
Tip: Use a timer to set your candles to turn on when the sun goes down. That way, when you arrive home from work, the house will be lit in a welcoming holiday light.
Naughty: Nails in the door
Nice: Adhesive hooks to hold a wreath
You don't need a hammer to hang a wreath on your door. Simply place a strong adhesive hook on the inside and tie twine around it. Then, hang the twine over the door, tie it around the wreath, and voila — a damage-free door!
Tip: While you're at it, check the weatherstripping around your door to make sure you don't have any drafts that can suck the warm air out of your home.
Naughty: Hazardous Christmas tree
Nice: Fire-resistant Christmas tree in a safe spot
Many artificial trees are fire-resistant, which means they're less likely to burn. If you want a live tree, check for freshness. A fresh tree will stay green long into the holiday season. The branches will hold needles longer, and they won't snap when you bend them.
Tip: Place your tree away from heated sources, like a fireplace or vent, and avoid high-traffic areas.
Naughty: Forgetting window decorations
Nice: Festive window décor
Grab some colorful ornaments and ribbon. Tie some ribbon to each ornament and hang three or four of them in varying lengths from your curtain rods. Use plastic ornaments to avoid scratching anything. You can also adhere festive star stickers to your windows to add some sparkle to your home.
["source=windowworldgsv"]