5 stress-busting relaxation apps to help you survive this holiday season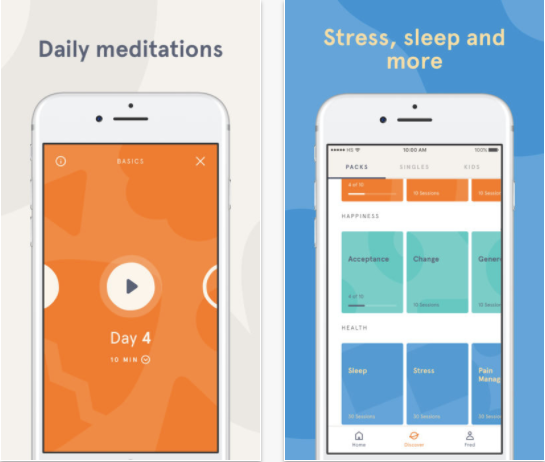 As the nights draw in, heating bills jump and there's just one pay day left to cover Black Friday and the holiday season, stress levels can reach record levels.
Ditching the smartphone and its endless distractions for a favorite book and an early night is one way to decompress. Another may be to tap into apps designed to help you breathe, relax and de-stress.
When it comes to de-stressing, getting to a place of mindfulness is a good place to start. Many apps do this, but Headspace is one of the most-loved, partly due to the calming tones of app co-founder and narrator Andy Puddicombe. A British former Buddhist Monk, Puddicombe talks users through the app's Basics pack for free, introducing the concept of mindfulness and how to breathe correctly during meditation.
Once fully unlocked with a $12.99 monthly subscription (or $94.99 for a year), Headspace offers guided meditation for almost any situation. Topics addressed include self-esteem, anger, anxiety, sleep, depression, regret, relationships, focus, creativity and many more besides. There are also lessons for kids aged five to 12.
Even if you don't want to pay, the free content acts as a good introduction to meditation, and daily notifications (which can be switched off) provide written advice on getting through whatever life throws at you.
Calm – iOS App Store and Google Play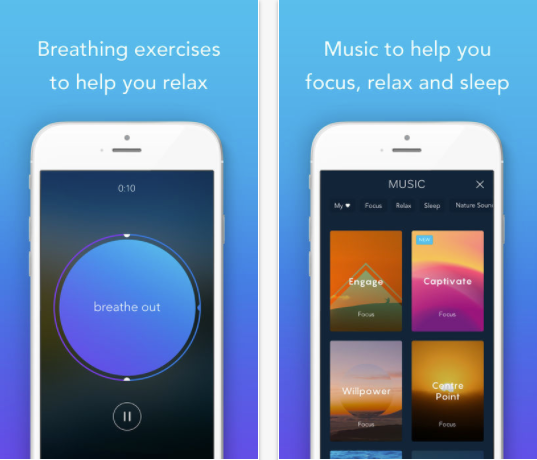 Calm has breathing exercises, meditation, music and audiobooksCalm via App Store
On a similar theme to Headspace, Calm offers guided meditation sessions which vary in length from three to 25 minutes. Topics include calming anxiety, managing stress, happiness, gratitude, self-esteem, relationships, and a section for meditation while walking. We don't recommend that last one while doing your Black Friday shopping, however…
Calm also includes music tracks designed to increase concentration or encourage sleep, plus audiobooks read by the likes of Stephen Fry. Calm contains enough free meditation classes to last a week or so, plus there is a 30-day free trial which unlocks the entire app. After this, it costs $12.99 per month or $59.99 each year.
7 Cups of Tea – iOS App Store and Google Play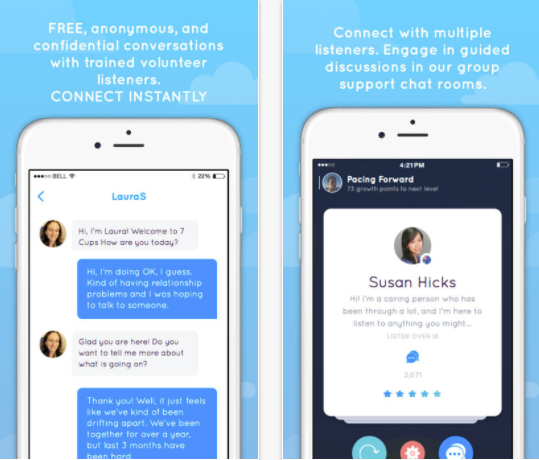 7 Cups puts you in touch with professional therapists7 Cups via App Store
For a more personal approach to boosting your mental wellbeing, there is 7 Cups Of Tea, an app which lets you talk via written messages to trained professionals about how you feel. First you pick a goal as a topic of conversation — such as reducing depression, relieving anxiety, coping with a breakup, or defeating loneliness.
Apple Watch Series 3 – GPS – Gold Aluminum Case with Pink Sand Sport Band – 38mm
New From: 
$366.40
in Stock
Used From: 
$349.99
in Stock
7 Cups of Tea claims it works using a "proven, research-based program" which involves chatting with experts and trained listeners. First, a chat bot explains how 7 Cups works, then attempts to pair you with a suitable therapist based on your age, gender and other factors. Once paired, the professional therapist will message you once or twice each day to check in on you and offer continued advice. All conversations are anonymous.
There is a free three-day trial, and after that 7 Cups costs $12.99 per month or $94.99 for a year. A large number of 'listeners' are available as part of the free trial and you can view their profile before reaching out. Paying for a subscription lets you talk with professional therapists and counsellors.
Sleep Better – iOS App Store and Google Play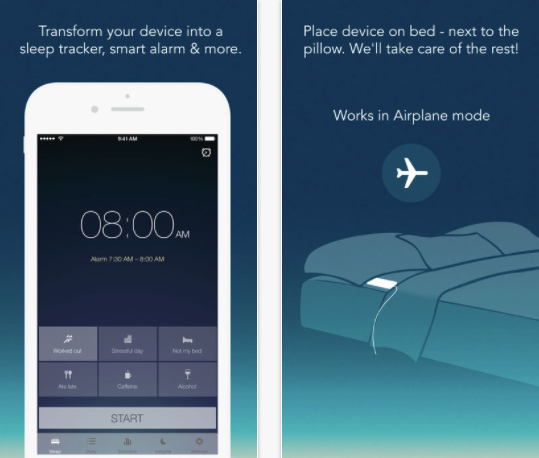 Smart Alarm feature wakes you up when you are least asleepSleep Better via App Store
There are a huge number of sleep apps to choose from, but the one we have used the most over the last year or so is Sleep Better. The app's simple interface asks you to note any factors which may affect the upcoming night's sleep, such as whether you have exercised, drunk alcohol or caffeine before bed, ate late, had a stressful day, or are sleeping in an unfamiliar bed.
You can then set an alarm or a 'smart alarm', which uses your smartphone's sensors to wake you up when you are least asleep, Set a time – say, 6:30am – then configure the smart alarm to wake you a few minutes either side of that.
The goal is your phone will sense you move just before your alarm, then wake you up early on the assumption you are least asleep right now. From personal experience, we can say this type of alarm works very well. Just remember to use Airplane Mode so no one disturbs you while the app is running on your unlocked phone.
Sleep Better tracks deep and light sleep each night, viewable on a graph the next day. This data is also plotted over weeks, months and years. Basic sleep-tracking is free, while the smart alarm has a one-off charge of $1.99.
Buddhify – iOS App Store and Google Play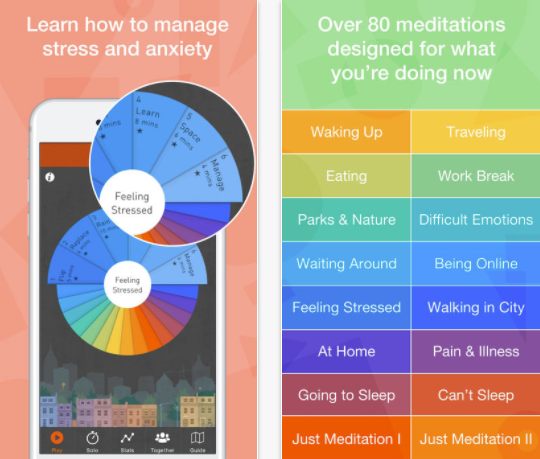 Unlike its rivals, Buddhify does not have a paid subscription modelBuddhify via App Store
Unlike the subscription models of Headspace and Calm, Buddhify lets you pay for full access to the app upfront. It costs $4.99 on iOS and $2.99 on Android – and for that the whole app is unlocked and ready to use.
There are over 11 hours of guided meditation to listen to, spread across more than 80 sessions. These are split into 14 topics which are served up based on what you are doing while using the app – options here include traveling, eating, waking up, taking a break at work, dealing with pain, overcoming stress, and more. Tracks range from five to 30 minutes in length.
Source;-gearbrain
Tags: 5, Apps, Help, Holiday, relaxation, season, stress-busting, survive, This, to, you