A veteran Belgian Islamic State fighter and bomb-maker whose DNA was found on two of the explosive belts used in last November's carnage in Paris has been confirmed as one of the suicide bombers in Tuesday's Brussels attacks.
Belgian prosecutors said that DNA evidence had confirmed that Najim Laachraoui, 24, was one of two jihadis who blew themselves up at Brussels airport, killing 11 people.
The revelation confirms the direct link between the two biggest terror attacks carried out in Europe by Isis.
Prosecutors said they were still holding three men who had been arrested in Brussels on Thursday night. The men are believed to be being questioned in connection to the suicide bomb attacks which killed 31 and injured 300 in the Belgian capital. In a statement, the state prosecutor named two of the men as Fayçal C and Abou A, but did not name the third. Three other people who had been arrested on Thursday night were released.
In a separate raid on Friday in the Brussels district of Schaerbeek, police shot and arrested an unnamed man as part of investigations into a foiled terror attack in France. Two other suspects, identified as Tawfik A and Salah A, were detained in connection with the French plot.
Witnesses told local media they had heard two loud blasts and shots from heavy weapons during the raid, which involved at least 50 officers. Video footage from Brussels showed a man lying on the ground at a tram stop holding a rucksack over the tracks as a bomb disposal robot inspected him.
Four days after the Brussels airport and metro suicide bombings, it is becoming increasingly clear that a thriving, well-organised Islamic State network straddling France and Belgium was responsible for both the Brussels attacks and November's Paris bloodshed, which left 130 people dead.
Two suspects have also been held in Germany, while in France, authorities said the arrest on Thursday in Argenteuil, near Paris, of a man with known links to the Paris attackers had thwarted a militant plot there that was "at an advanced stage".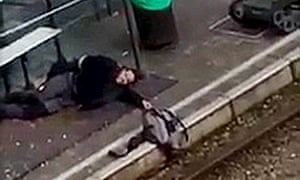 The French interior minister, Bernard Cazeneuve, said there was "no tangible evidence" linking the plot to the attacks either in Paris or Brussels, but a French interior ministry "wanted" notice published by French media named the man arrested as Reda Kriket, who along with Abdelhamid Abaaoud, the ringleader of the 13 November Paris attacks, was convicted in absentia last July of recruiting Islamist fighters for Syria in Belgium.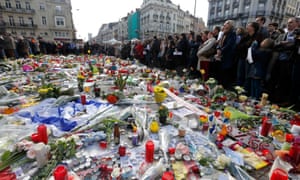 Le Monde newspaper said police had found an arsenal of arms and explosives in the suspect's flat, including five Kalashnikovs, a submachine gun, eight AK-47 magazines, a large quantity of ammunition and several items of bomb-making equipment including acids, acetone and hydrogen peroxide.
Both Kriket, a French national who had a criminal record for armed robbery, and Abaaoud were members of the so-called Zerkani network, a jihadi group responsible for sending at least 30 Belgian extremists to fight in Syria.
Belgium's security services have come in for increasing criticism for failing to prevent the attacks in Brussels, in the light of the fact that at least three of those who blew themselves up were known to the authorities. And it also emerged on Friday that police had information that could have led to the arrest of Salah Abdeslam, the sole surviving suspect in November's Paris attacks, months before he was captured in Brussels last week.
Local police in the Mechelen, just north of Brussels, confirmed local press reports that they had information as early as last December suggesting that Abid Aberkan, a relative of Abdeslam – who is suspected of playing a key logistical role in the Paris attacks – had become radicalised, but failed to pass it on.
Abdeslam was arrested fully four months later, days before the Brussels bombings, at Aberkan's home in the Molenbeek district of the Belgian capital. The 26-year-old French national appeared briefly in court on Thursday, and is likely to be extradited to France within weeks, according to his lawyer.
The Belgian prosecutor confirmed that Abdeslam was questioned by investigators on Tuesday after the Brussels attacks but refused to speak.
Germany's Der Spiegel magazine reported that two men had also been arrested in raids in Düsseldorf and Giessen. One had been deported from Turkey with one of the Brussels bombers, the magazine said, while the other had received text messages on the day of the attacks containing the name of another bomber and the French word "fin", or "end".
The US secretary of state, John Kerry, in Brussels to meet the Belgian prime minister, Charles Michel, said the US – which lost two of its citizens in the attacks – was "praying and grieving with you for the loved ones of those cruelly taken from us".
Kerry said America "stands firmly with Belgium and with the nations of Europe in the face of this tragedy", adding that the world would not relent in its fight against Isis. "We – all of us representing countless nationalities – have a message: we will not be intimidated," he said.
The Belgian interior and justice ministers, Jan Jambon and Koen Geens, offered to resign on Thursday after widespread domestic and international criticism of the authorities' handling of the affair.
The ministers conceded errors had been made, in particular over one of the Brussels bombers, Ibrahim el-Bakraoui, 30, who was expelled last year by Turkeyand flagged as a suspected terrorist fighter, but was able to attack the airport.
The EU home affairs commissioner, Dimitris Avramopoulos, said on Thursday the attacks "did not come as a surprise", raising further awkward questions about Europe's apparent inability to keep collective track of homegrown extremists and fighters returning from Syria.
Bakraoui was one of two suicide bombers at the airport whose suitcase bombs killed 11 people. His brother Khalid, 26, detonated the bomb that claimed 20 more victims at Maelbeek metro station, near the headquarters of the European commission in the city centre.
Prosecutors have confirmed that Khalid rented a flat used as a hideout for the Paris attackers, and was named in an international arrest warrant issued on 11 December.
All the Brussels attackers so far identified by police and prosecutors have links toAbdeslam, the sole survivor of the 10 jihadis who carried out November's Paris attacks on a concert hall, the Stade de France and a string of cafes and bars killing 130 people.
Laachraoui travelled to Hungary with him last year, while the Bakraoui brothers rented – as well as the Belgian safe house used by the Paris killers – an apartment in the Schaerbeek district of Brussels where Abdeslam himself hid for three weeks after the attacks.
Belgium has lowered its security alert by one level, but officials did not say what that would mean in terms of security measures that have included a heavy police and military presence in Brussels, the capital of both the European Union and Nato.
Those injured in the attacks came from about 40 different countries. Few of the dead have so far been formally identified, authorities have said, with forensic experts sometimes able to work from only small fragments of bodies. Final identification could take weeks, they have warned.