Donald Trump blacks out windows to stop media filming his golf round with Japanese premier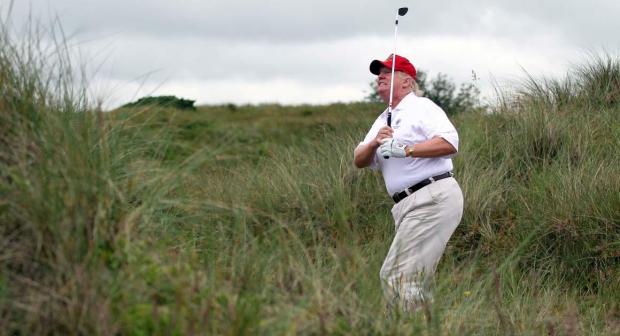 Donald Trump has always been proud of his skills as a golfer.
Reports suggest that a round of golf is the only form of exercise he takes. Meanwhile, the New Yorker once reported how Mr Trump one berated a journalist who questioned whether or not he had shot a round of 71.
All the more bizarre, then, that members of the White House press corps awoke to find the windows of their hotel in Florida covered in black plastic, apparently to prevent them media filming his Saturday morning game with Japanese prime minister Shinzo Abe.
"Trump's press corps has been placed in a basement suite at Jupiter golf club," wrote Jennifer Jacobs, White House correspondent for Bloomberg News.
"Black plastic over windows to give Trump privacy as he golfs."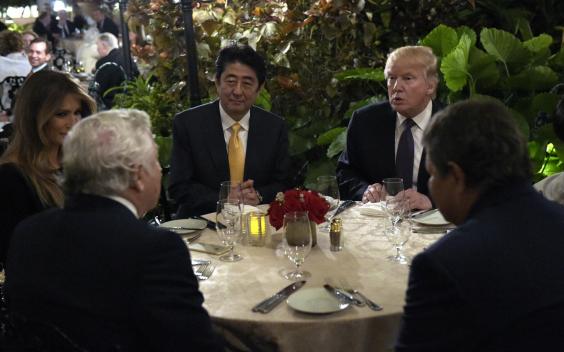 At around 8.45am, Jill Colvin, a White House reporter for the Associated Press, tweeted an bight image showing palm trees and sunshine.
"Good morning from Mar-a-Lago. President Trump and PM Abe will be leaving to golf shortly," she wrote.
However, two hours later, she posted an image of the room in which the press pool was being forced to wait. It also showed black plastic over the windows.
"Our view of Trump's Jupiter golf course from the pool hold," Ms Colvin tweeted.
The previous day, Mr Trump startled some observers of his news conference with Mr Abe, when he was shown not to be wearing a translation earpiece, until the question and answer session.
CNN said that he had laughed at Mr Abe's speech – which included jokes about golf – by following cues from his aides and others in the room.
Mr Trump believes he has found a strong ally in the Japanese leader, despite his intention to pull the US out of the Trans Pacific Partnership trade deal.
Mr Abe visited the president-elect at Trump Tower in New York, one of the first foreign leaders to do so.
[Source:-Independent]
Tags: blacks, Donald, filming, Golf, his, Japanese, Media, out, premier, round, stop, to, Trump, Windows, with