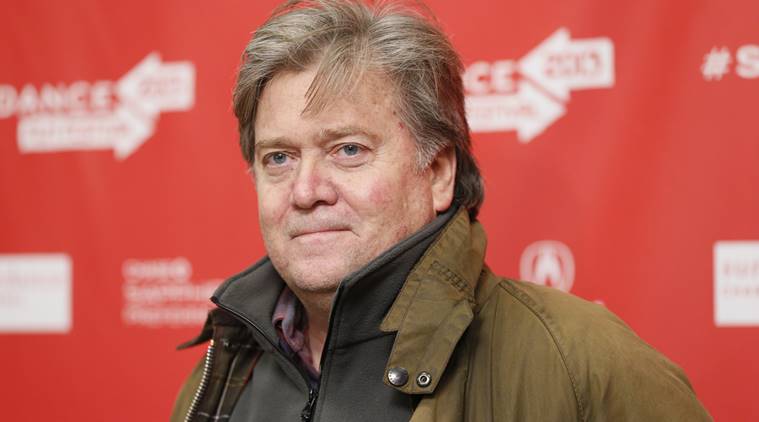 A rattled Donald Trump on Wednesday rejigged his campaign for the second time in two months by introducing fresh faces, including a CEO, to propel his faltering presidential bid after recent polls showed him lagging behind rival Hillary Clinton. The Republican presidential nominee hired as CEO Stephen Bannon, the executive chairman of the conservative website Breitbart News, and promoting one of his advisers – Kellyanne Conway – to the post of campaign manager.
The rejig comes 82 days ahead of the November 8 election. Bannon has temporarily stepped down from his role at Breitbart News to work full-time with the Trump campaign. The new position has been designed to bolster "the business-like approach" of the billionaire tycoon's campaign, according to a media release.
Conway is a nationally-respected pollster and Republican campaign strategist. He is the founder and president of The Polling Company/WomanTrend, a privately held, woman-owned corporation.
"They are extremely capable, highly-qualified people who love to win and know how to win," the 70-year-old Trump said. "I believe we're adding some of the best talents in politics, with the experience and expertise needed to defeat Hillary Clinton in November and continue to share my message and vision to 'Make America Great Again'."
The announcement come at a significantly important stage for the presidential campaigns, with the first major TV ad buy slated to start later this week and with additional top-flight operatives joining the movement on a near-daily basis. The reposition also comes at a particularly intriguing time for Trump as he has been trailing Democratic Party candidate Clinton both nationally and in key states. Recent polls have showed Clinton consolidating her position among youths and millennial who had supported Bernie Sanders, her rival in the Democratic race.
Bannon, who was once recognized by Bloomberg Politics as the "most dangerous political operative in America," will oversee the campaign staff and operations in addition to strategic oversight of major campaign initiatives. Bannon holds a Masters in National Security Studies from Georgetown University and an MBA from Harvard Business School.
Prior to joining Breitbart News, Bannon was an Officer in the US Navy and owned an investment bank that he sold to Societe Generale. Conway, a sought-after pollster, will work on messaging and travel frequently with Trump, while working closely with Bannon and campaign chairman Paul Manafort. In the shake-up, Manafort retains his role as chairman and chief strategist. US media has, however, termed it a demotion for him.
"The staffing change, hammered out on Sunday and set to be formally announced Wednesday morning, was seen by some as a demotion for Manafort," The New York Times said.
"It's an expansion at a busy time in the final stretch of the campaign," Conway was quoted as saying by The Times. In June, Trump fired Corey Lewandowski as his campaign manager nearly a month before he was to secure the presidential nomination at the July Republican convention.
[Source: The Indian Express]