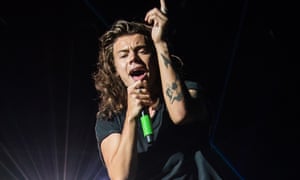 Harry Styles has reportedly been offered a role in Christopher Nolan's second world war epic Dunkirk.
According to Deadline, the One Direction singer is set to make his acting debut in the drama alongside Tom Hardy, Kenneth Branagh and recent Oscar winner Mark Rylance. The reports suggest that it won't be a leading role.
Details of the film are being kept secret but the Inception director is rumoured to be searching for mainly unknown actors to play the key roles with the more well-known talent taking a back seat. He is said to be keen on newcomer Fionn Whitehead for one of the two leads.
Last month it emerged that Nolan will be using authentic second world war battleships for the film because he wants to avoid using too many digital effects. The film will tell the story of the Dunkirk evacuation at the start of the second world war.
Styles was previously offered a role in romantic drama Tulip Fever, alongside Judi Dench and Alicia Vikander, but turned it down. He is loosely attached to star in the next season of horror comedy series Scream Queens alongside Jamie Lee Curtis and Emma Roberts.
Dunkirk is aiming for a summer 2017 release.
[Source:- The Guardian ]