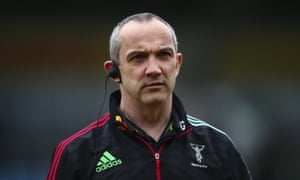 The Harlequins director of rugby, Conor O'Shea, will become the new head coach of the Italian national team in June.
The Italian Rugby Federation (FIR) announced on Friday the 45-year-old former Ireland full-back would succeed Jacques Brunel on a four-year contract. O'Shea, who led Quins to the Premiership title in 2012, will take the former England player and coach Mike Catt to Rome as his attack coach..
O'Shea had been strongly linked to the Italy job for several months, so his appointment comes as no surprise. His first task will be to help oversee Italy's summer tour to Argentina, the United States and Canada.
The Azzurri finished bottom of the Six Nations table in 2016 – the 11th time in 17 appearances they have collected the wooden spoon. They conceded 224 points and 29 tries in five games, while in their final two fixtures against Ireland and Wales they were beaten 58-15 and 67-14 respectively.
In a statement posted on the Italian Rugby Federation and Harlequins websites, O'Shea said: "As I said when I announced that I would be leaving, I feel the end of this season is the right time for me to take on a new challenge. And I am honoured, humbled and excited that I will be working with everyone in Italian rugby to ensure they can achieve on the undoubted potential they have as a rugby nation.
"I spent many years in the 1990s playing against a great Italian side, and I know there is the ability and will within this current group of players and the FIR to ensure that the current team can become the best Italian team in its history. But that is for another time. For me now, there is a job to finish at Harlequins and to see if we can add some more silverware to the trophy cabinet at this great club. I will say my goodbyes then and not before."
Harlequins have said they will announce a new director of rugby "in due course" and will not make any further comment until such time.
Catt returns to rugby after leaving his post as an England skills coach in December, following the host nation's 2015 World Cup flop when they failed to progress beyond the pool stage. Catt, Andy Farrell and Graham Rowntree alldeparted the RFU, with the new England head coach, Eddie Jones, recruiting Steve Borthwick and Paul Gustard to work with him.
Stephen Aboud, currently the Irish Rugby Football Union's head of technical direction, has also been appointed by Italy as head of training from 1 August.
The FIR president, Alfredo Gavazzi, said: "The appointment of this new head coach, his assistant and the head of training is a crucial turning point for the Italian Rugby Federation. We have identified three of the highest-profile figures, three men who are in possession of what we believe are the most suitable qualities that can contribute to the development of our team.
"O'Shea is a coach with a record of success on the pitch and strong managerial skills, who will add extra value to all the various components of the Italian rugby setup. We are excited to give Conor, Mike Catt and Stephen Aboud, who will play a crucial role in the development of Italian rugby, a warm welcome."
[Source:- The Guardian]