The origins of the Kashmir problem are political, and the solutions will have to be the same, former chief minister and National Conference working president Omar Abdullah tells Sushant Singh as the violent protests after the killing of Hizbul Mujahideen commander carry on across the Valley.
Excerpts from the interview:
Q: How bad is the situation in Kashmir? What led to it?
Omar Abdullah: This is one of our worst periods in the last decade or so — certainly after the twin summers of 2008 and 2010. What led to it, that is fairly obvious – one of the two things happened: either the state government and its various intelligence wings completely failed to assess the fallout of Burhan Wani's death; or having assessed it properly, they failed to put into place adequate measures to deal with the fallout.
What we have seen in the Kashmir Valley over the last week is not a flash in the pan. It has been building up to this. You have had increased participation in militant funerals, you were forced to take a decision that non-local militants will be buried anonymously near the line of control because villagers started fighting over the right to bury the body, you had increased attempt by people to disrupt encounter sites by stone pelting and sloganeering from neighbourhood mosques. So it is not as if the fallout of Burhan Wani's death has at least hasn't caught me by surprise, when I am not privy to any intelligence reports after I demitted office last year. Why did it then take the state government by surprise?
Fundamentally the government and the intelligence agencies completely underestimated the reaction — the Chief Minister is the head of the Unified Command and the buck stops at her. They probably thought it was a 24-hour problem, get the burial out of the way. If the burial passes peacefully, everything else will be fine. The burial actually did pass off peacefully, even though you had an unprecedented crowd, which was largely peaceful. It were other areas that flared up first.
Q: How differently would have you handled the situation?
Omar Abdullah: To what extent the state government was a willing participant in the encounter of Burhan Wani — that is an important question. There are different points of view now cropping up. The state government has in effect contradicted itself by first saying that the Chief Minister was informed and then saying that the Chief Minister wasn't.
Assuming that the state government was a willing party and participant in what happened last Friday (Burhan's killing), then clearly the post-encounter situation management is where the problem arose. Nothing more needed to be done than to put in place the lessons learnt from 2010 agitation. We had well-drafted SOPs (standard operating procedures) for this sort of situation: well-drilled and practised procedure in terms of coordination between CRPF, police and the army to stop the flow of people from rural to urban areas, to cut off various points so that large crowds couldn't gather, use of force and to what extent was permissible – the level and training of officer who would carry a particular weapon so that untrained people are not handed weapons that can be put to lethal use. It just needed to be executed well.
Q: You said that whether state government was a willing participant or not…. What makes you say that?
Omar Abdullah: My question has arisen because of the two contradictory statements by the government to the media, the initial statement that the Chief Minister was informed – and in the past has also been informed about such encounters – and that was the case this time as well. Subsequently, in an interview to an Urdu news channel, the same person said the Chief Minister didn't know. The Chief Minister herself, while addressing the state, said that when she came to know that Burhan was dead, she asked for curfew to be imposed.
I know from experience, in encounters that security forces call High Value Target militants were involved, I was always kept informed about the possibility of them being caught in a cordon, and then possibly I was informed about the progress and conclusion of the encounter. Because dealing with the aftermath of an encounter requires very deft handling. If in this case it was known that Burhan – perhaps the highest value individual that the agencies would have been tracking — was trapped in the cordon and the Chief Minister was not informed, it is unpardonable.
Q: What do you think about the use of pellet guns for crowd control in Kashmir?
Omar Abdullah: Whether a weapon is lethal or not depends on how it is used. It was a tear-gas shell which killed a boy in 2010. After the current state of unrest is over, a definite relook is needed about what we are using for crowd management and how it compares with the rest of the country. You had a huge agitation in Haryana, it was not a peaceful agitation. (But) did it have these kind of consequences? Look at the amount of property that was burnt and destroyed but it didn't meet with this sort of response.
Look at the (Patidar) agitation in Gujarat, the crowd and arson, or the Nirbahaya rape case protests (in Delhi) where crowds were trying to walk up the Raisina Hill towards North Block and South Block — even then those crowds did not meet with this kind of force. We need to look whether we are responding to violent crowds differently in Kashmir vis-à-vis in other parts of the country.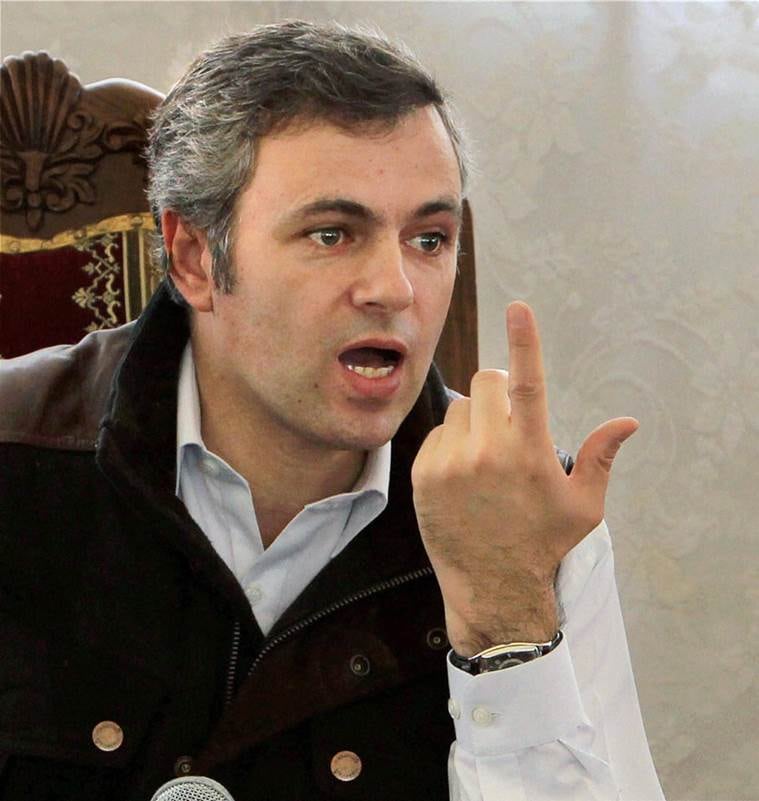 Former Jammu and Kashmir chief minister Omar Abdullah during a press conference in Srinagar. File/PTI Photo
Q: Has the problem aggravated due to the BJP-PDP alliance?
Omar Abdullah: This is not the time to talk politics, whether PDP versus BJP or PDP versus NC. Let the cycle of violence stop first.
At some point in time, we will have to see why there is an increased willingness of youth from South Kashmir to join militancy. The protests are also from PDP strongholds in South Kashmir. The state government is lucky that Srinagar has not flared up. Normally, what happens in Srinagar expands. This will be easier to control.
The state Education Minister has accused us of fomenting this trouble. Srinagar and surrounding areas are our strongholds and if we were involved, the situation would not been what it has been there.
Q: How are these protests different from 2010?
Omar Abdullah: The 2010 protests followed the Separatists programme after the Machhil fake encounter case. It was a protest for justice. This is a protest borne out of anger. There is no demand you can give in to to satisfy the protesters, and this makes these protests more difficult. Whether it is Pakistan or separatists, they have jumped on to a bandwagon of an existing protest rather than being an architect of it. Pakistan may be trying to now fish in troubled water but let's not for a moment kid ourselves that Pakistan is the architect of these protests. It has happened because of our own mishandling of the situation.
Q: If they are built around anger, won't these protests affect all mainstream political parties in Kashmir?
Omar Abdullah: Yes, they are. I would be stupid if I said that this anger is directed only towards Mehbooba Mufti and if I stood at Lal Chowk, people will offer me flowers. The NC, PDP, Congress and other independent election-fighting political parties will all be target of it. Degrees of anger may vary but the entire mainstream (political parties) will suffer.
That is why me or my party have done nothing which can worsen the situation. This is what I conveyed in the meeting I had with the Union Home Minister on Thursday.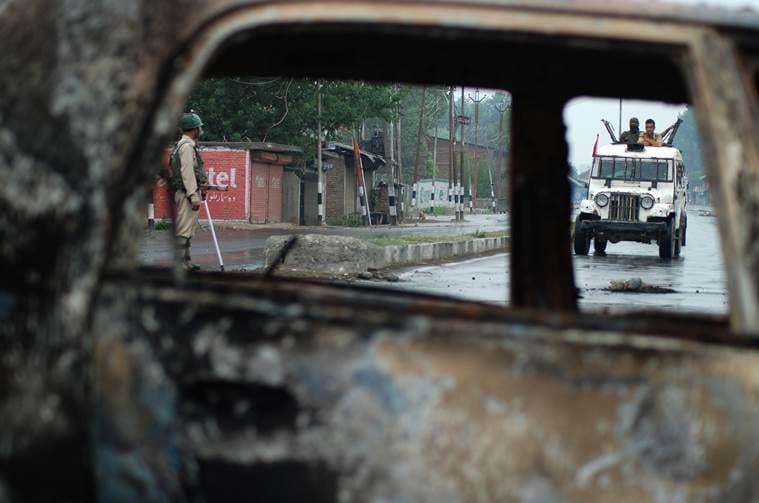 The vehicle of a policeman travelling home was torched by protesters in Parimpora, Srinagar. Express Photo/Shuaib Masoodi
Q: The previous BJP government led by Vajpayee announced a unilateral ceasefire with Hizbul Mujahideen. How is the current BJP government different on Kashmir?
Omar Abdullah: Both governments, post-Vajpayee government, have had no such initiatives. The ceasefire — what was later called the non-initiation of conflict operations — led to tentative discussions between the Union home secretary and the Hizbul Mujahideen. Some sort of dialogue was started between PChidambaram, when he was the Home Minister, and sections of the Hurriyat leadership. It was outed by a national newspaper and the process ground to a halt.
The problem in Kashmir can't be solved economically. There are aspects of economy, unemployment and governance but at the heart of it, the problem in Kashmir is political. The origins of the problem are political, and so will have to be solutions.
This Prime Minister can do more than any other (in recent past). He has a majority of his own, and there is no difference between him and the RSS. If anyone can do something, it is this PM. But he has to recognise that it is a political problem which needs a political solution.
After 2010, an interlocutors report was given. It was not even discussed in Parliament – (it) was buried unceremoniously. If you send an all-party delegation today, who will take them seriously? I will myself think twice about taking the time out for them.
[Source:- The Indian Express]