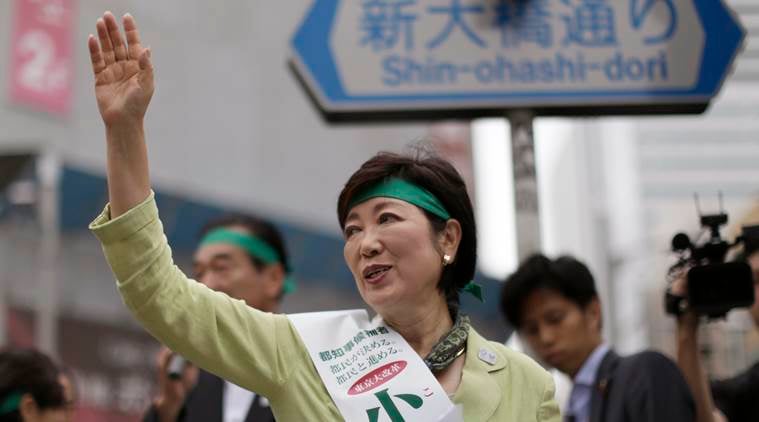 Tokyo's new governor Yuriko Koike on Monday credited her landslide victory to having stood up to the powers that be in Japan's ruling party who didn't want her to run.
Koike, 64, was elected Tokyo's first female governor in the on Sunday vote, winning more than 2.9 million votes, far outpacing the nearly 1.8 million ballots cast for closest challenger Hiroya Masuda. Masuda, a former governor of Iwate prefecture in northern Japan, was the favoured candidate of Prime Minister Shinzo Abe's ruling Liberal Democratic Party (LDP) and its coalition partner.
The LDP spurned Koike, an LDP member, for failing to seek its approval before announcing her candidacy, with a top party official calling her "selfish". Koike, however, had the last laugh after her campaign drew huge crowds during street rallies ahead of the vote.
"I fought this race without support from the party, and people joked I was like the sole player in a theatre company," she told reporters early on Monday. "But in the end it allowed us to move freely rather than restricting us."
The election was called after previous governor Yoichi Masuzoe resigned over a financial scandal involving the lavish use of public funds on hotels and spa trips — the second successive Tokyo leader to quit.
A key challenge facing Koike will be to get a grip on Tokyo's troubled path to hosting the 2020 Summer Olympics, which has been plagued by scandals and cost overruns. She vowed late Sunday to be transparent on the budget and restore the trust of voters in the sprawling metropolis of 13.6 million people.
Her defeat of Masuda, a veteran administrator who had won plaudits as governor of northeastern Iwate for 12 years, was a huge embarrassment for the conservative party.
Chief Cabinet Secretary Yoshihide Suga, the government's top spokesman, expressed disappointment that Masuda lost but hinted the LDP could work with Koike. "It is important for the central government to cooperate (with the new governor) for the benefit of the Japanese people," he said.
The party having backed the wrong horse is also embarrassing for Abe, who has vowed to improve conditions for women in male-dominated Japan so they can better contribute to the economy by taking senior positions in business and government.
[Source:- The Indian Express]