The Monsoon Session of Parliament, beginning Monday, will see the Opposition take on the BJP-led NDA government on a host of issues including the on-going protests in Kashmir.
At an all-party meeting called on Sunday, Prime Minister Narendra Modi hoped for meaningful discussions saying important Bills, including the GST, will be taken up during the Monsoon session.
"GST is of national importance. Issue is not which government gets credit. Important Bills, including GST, will be taken up in the monsoon session and I hope there will be meaningful discussions and outcomes. All of us represent both the people and parties and let us keep national interests above everything else," Prime Minister Modi said. You can read more of what Prime Minister Modi said here.

5:38 pm: Replying to a demand about a all party meet on Kashmir issue, the Home Minister said that the govt is open to the idea
5:36 pm: We must deal the matter with sensitivity. We certainly should not use bullets, we have ensured use of 'non-lethal weapon'
5:34 pm: Team of eye specialists have been already rushed in, not only eye injuries, even civilians with any fatal injuries will be assisted.
5:32 pm: We do need any advice from Pakistan on how to take care of the Indian Muslims. We do not discriminate on the basis of religion, we will take care of everyone.
5:31 pm: We must enlighten the youth of Kashmir to what is right and wrong:Rajnath Singh
5:28 pm: I'm in constant touch with Mehbooba Mufti and whatever needs to be done to stabilise the state we will do it: Rajnath Singh
5:25 pm: "Kehne ko toh naam Pakistan hai, par harkateen saari na-pak hai", says Rajnath Singh
5: 20 pm:"Will deal with militants sternly, but with sympathy with civilians, " says Rajnath Singh in Parliament.
5:15 pm: Home Minister Rajnath Singh responds to Kashmir issue in Rajya Sabha
Home Minister Rajnath Singh said in Rajya Sabha that he was also pained because of the incidents of violence in Kashmir valley. He also said the Prime Minister is also deeply pained because of it. "Security Forces have been told to use non-lethal weapons," he said. He said that they were in touch with J&K Chief Minister Mehbooba Mufti and have asked her if there was a need of sending doctors from Delhi to treat the wounded.
"I want to assure that militants will be dealt with strictly," Rajnath Singh says to Ghulam Nabi Azad.
4.50 pm: Pakistan must celebrate 367 Black Days in a year as our forces kill militants everyday: Sanjay Raut, Shiv Sena
Pakistan wants to celebrate Black Day on the account of Burhan Wani's death. If that is case then Pakistan has to celebrate it everyday as our security forces kill militants daily.
I don't think the dialogue process with Pakistan has stalled. Our prime minister went to Pakistan unannounced and had tea with Nawaz Sharif. We should never have chai pe charcha on Kashmir. We should have a dialogue along with the people of Kashmir. We all must go to J&K and initiate dialogue with Kashmiris. An all-party delegation visiting J&K for a day won't achieve anything. We must sit and talk with them.
There are a few in Kashmir who carry Pakistan and ISIS flags. These people have stopped Amarnath pilgrims and asked them to shout "Pakistan Zindabad". Not everyone in Kashmir are like this, but there are a few. And we need to control them.
4.25 pm: Why can't you think about withdrawing AFSPA in civilian areas, asks D Raja of CPI
The situation is alarming. Kashmir is full of tragedies. PM himself admitted there was excess use of force. Hundreds of our young children are likely to lose their vision and many have lost their lives. Why is there a conflict between our security forces and our own people? Is Kashmir a law and order problem? Kashmir will always be a political problem that needs a political solution?
Every govt tried to initiate a political process and your govt must also try. The people are really facing a tragic situation. The semi-widows in Kashmir remind me of Tamilian women (in Sri Lanka) who don't know whether they have lost their husbands. The Kashmiri youth are very well informed and intelligent. We must place our trust in them and win over their confidence.
We must consult all stake holders in Kashmir, including separatists. Political solution is possible only by winning their confidence. This can only happen through a political solution. Why can't you think about withdrawing AFSPA in civilian areas? There are even reports about establishing separate colonies.
Some of your own people (NDA leaders) talk about changing the demographic of J&K. Some of them also question the validity of Article 370. Then why do we even have an Article 370? When you start questioning the very validity of their constitutional rights then it agitates the people of Kashmir. Dialogue is the only way towards achieving peace in Kashmir. All the time the references are made only to Pakistan. Even we should have a composite dialogue with Pakistan.
4.13 pm: Is there a political will to solve the crisis? asks Dr Karan Singh, INC, Delhi
"Everybody is dissatisfied in the state. Congress has been in power in 10 years and has taken various initiatives, but the status quo remains. Is there a political will to solve the crisis? An all-party delegation can go to J&K with ideas, but is there anyone in the state willing to listening to us. It is a challenge before all of us."
4.00 pm: NCP's Praful Patel on the Kashmir issue
"The situation in Kashmir has never been as worrisome as it is today. Separatist forces be it Burhan or Geelani have always potrayed Kashmir in a different way. Not here to blame any government but we should unite as a country and work to restore peace in Kashmir," Patel said.
"The existence of Pakistan army is basically to keep the fight between India and Pakistan alive," he said, adding that whether Pakistan is involved in the violence is not to be ignored but we must see what we can do to ease the violence.
Patel added that there's no Hindu-Muslim issue in Kashmir. "For years the Amarnath Yatra has been on safely."
3.35 pm: Hold talks in Kashmir, let's have an all-party meet to discuss the issue, says Yechury
CPM's Sitaram Yechury is speaking in Rajya Sabha: "My heart goes out to the young lives that have been lost in Kashmir. Tens of youths have been killed and just one police officer has lost his life. This shows the balance of power. Several are battling injuries to their eyes and we don't know if their vision will be restored.
I urge the government to send medical help to Kashmir along with the additional forces that it plans to send.
Nobody is denying that Pakistan has a hand in this, but what are we doing about it? What was the cause of the unrest?
Home Minister spoke to us asking for solutions. We said hold dialogues. That's the way forward. Where is the feeling of humanity which Vajpayee used to talk about?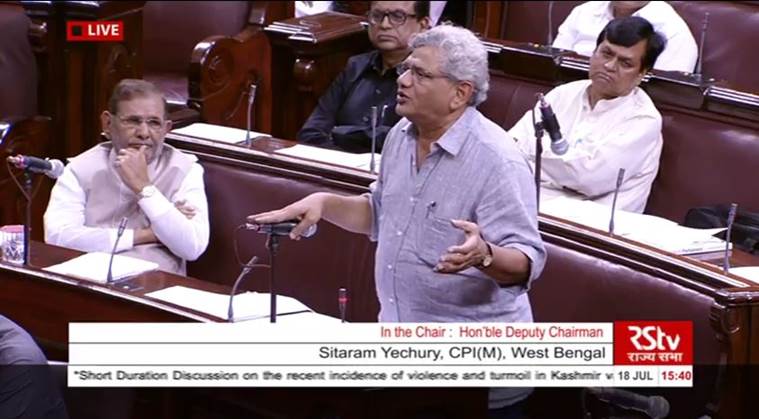 We are all together against terrorism for the welfare of the nation. Convene an all-party meeting to solve the issue of Kashmir. We have to stop turning communities against each other in the country.  We need to probe who's responsible for excessive force in Kashmir. At the same time, you need to start the political dialogue. We should all talk in one voice and that voice must be shared by the government too. If bullets are still being fired in Kashmir, then whose hearts do you plan on winning?"
3.25 pm: Solution to Kashmir issue doesn't lie in guns or violence, says Sharad Yadav
JD(U) MP Sharad Yadav speaking in Rajya Sabha said guns and violence is no solution to the on-going violence in the Valley urging the government to keep the use of force within the limits of humanity. "The internal security of Kashmir should be strengthened and at the same time we should have talks with those who don't share the same views as us," Yadav said, adding that the entire country stands with the government on the issue and the love for Kashmir extends throughout the country.
3.15 pm: Protect the soul of Kashmir, says Derek O'Brien, TMC
Here's what Trinamool Congress MP Derek O'Brien said during the discussion.
"The most appropriate expression to use is that the union government has mishandled the situation.
Ordinary people have lost their lives, it's sad. We must extend help to all families. I read the story of a class ten student in The Indian Express. It could have been any one of us.
How are these people expressing themselves? through social media. Who are the champions of social media? These people who came here in 2014. Make sure you understand Digital India. Digital India could become Divisive India. Understand the medium as a lot of young people are on social media.
Along with hard policing there needs to be political dialogue. Leader of the House should handle the situation with dialogue and security, together.
TMC MP Derek O'Brien in Rajya Sabha during the discussion on Kashmir.
We need the power of healing touch. What is Kashmir? Land? Soil? The people of Kashmir… It's the soul of Kashmir. We need to bring the people together. Bring them and make them feel they are a part of us. When we see a Kashmiri boy or girl working in Goa or Bangalore you feel a little extra special. It's the soul. I urge this government that in the hard policing and strict measures to keep the soul in mind.
I urge the govt to begin the dialogue process with our own people. They are our own young people.
Govt has to accept that they have mismanaged the situation, please don't shy away from this. Everyone has been magnanimous about it and are standing behind you.
2.40 pm: Must rise above political differences, says Jaitley
Leader of Rajya Sabha Arun Jaitley is responding to the Leader of Opposition Ghulam Nabi Azad. "There are times when we should rise above political differences for the nation," he says, adding that he agreed with Azad that a serious situation exists in Kashmir.
"Blaming measures by BJP-PDP govt in Kashmir is one political thought. I don't have time to narrate history. The political struggle in Kashmir is not between parties but between this country and separatists," Jaitley says.
"Pakistan has never reconciled to the idea of J&K being a part of India," Jaitley said.
Also Read: Ghulam Nabi Azad: Pellet guns not used during Haryana riots, why only in Kashmir?
"Thinking that everything is wrong only since the formation of the PDP-BJP government is incorrect. The truth of the situation is that efforts have been made to put hurdles in the way of the ruling party. The PDP-BJP alliance is not behind the unrest in Kashmir nor was television debates. PDP and BJP have ideological differences. The PDP-BJP alliance was dictated by election results."
"We need to stop the creation of a situation in which the youth in Kashmir sympathise with a terrorist. How does one deal with civilians when protests turn violent and each person throws dozens of stones at the security forces? No nation can tolerate an attack on its integrity. "
"We must, in one voice, urge the youth in Kashmir to not join any protests so security personnel aren't forced to take action," Jaitley said, concluding his remarks.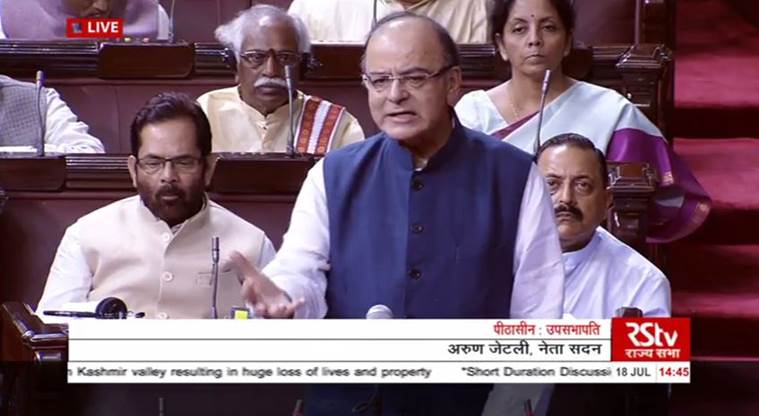 Leader of the House Arun Jaitley speaking in Rajya Sabha.
2.30 pm: Don't interfere in India's internal affairs, Azad warns Pak
"Those living in glass houses should not stone others," Azad warned Pakistan, saying that country should observe black day for every time there is an attack there.
"Pakistan is trying to worsen situation in Kashmir and India. India can handle its internal affairs on its own," Azad added.
He also spoke about how Taslima Nasreen was given asylum by India, but was used to criticise Islam on Indian television.
2.25 pm: 'Stand for media freedom but there must be caution'
"There's no press freedom in Kashmir. Internet is down, there are no newspapers, no cable channels. There has to be freedom of press, but that must not be against national interest.
Earlier we used to wait for news on television, now they have so many prime times that are used to pit Muslims vs Hindus.
I don't have an objection to the newspapers but news channels that have these discussions need to be kept in check," Azad said.
2.00 pm: Discussion on Kashmir violence begins in Rajya Sabha
Leader of Opposition in Rajya Sabha Ghulam Nabi Azad has begun the discussion on the violence in Kashmir.
Azad says: "The prevailing situation in J&K has many aspects – internal situation, role of State and Central government, and external forces. People have been killed in all 10 districts of J&K, and maximum damage was done in 4 districts of South Kashmir. So many people have been hospitalised across the valley. Should locals be treated the same way we treat militants? Should same bullets that are used on militants be used on innocent people of J&K. We stand with the Government in ending militancy but we don't support the way civilians are being treated…"
"The kind of environment which the ruling party is creating in Kashmir has not been created by any other party. The kind of statements being made by members of the ruling party have contributed to the situation in Kashmir. Sadly, no action has been taken against them despite the House repeatedly debating these statements… Over 1800 people are injured in Kashmir. Pellet guns were not used during Haryana riots. We must ensure that the government's attitude towards the civilians in Kashmir is that of a parent towards their children."
Azad added that governments are run on trust and faith, but people of Jammu and Kashmir have a sense of mistrust towards the current government. "I'm not saying that Kashmiri people had complete faith when Congress was in power, but there was a sense of trust in some corner."
"The situation now has gone back to the 90s. It will probably take us 26 years to get back to normalcy. Normally, when curfew is imposed, on a state it cools down the next day. But what is the reason for Kashmir not going back to normalcy ten days after curfew has been imposed? This isn't a simple wound. It's a deep wound that will take time to heal."
1.05 pm: Congress has spoken to Jaitley on GST
Outside Parliament, Congress MP P Chidambaram told reporters that Ghulam Nabi Azad and Anand Sharma have held talks with Finance Minister Arun Jaitley, and that Jaitley has promised to come back with some concrete proposals. "Let us see the draft which they bring, and we will respond," Chidambaram said.
1.00 pm: Kashmir violence to be discussed in House
Rajya Sabha is likely to discuss the on-going violence in Kashmir. The Congress Party issued notice in the House and the discussion could come up at 2 pm. The House has been adjourned to meet again at 2 pm.
12.15 pm: Question Hour underway
Proceedings in the House have resumed and Question Hour is currently underway.
12.00 pm: Rajya Sabha adjourned till 12.13 pm. The Business Advisory Committee of Parliament will meet at 1 pm.
11.55 am: "Pehle meri baat toh suniye. Kamaal hai" 
BSP leader Mayawati raised incidents of violence and atrocities against the Dalit community in Gujarat saying the BJP government has ignored the poor. She was soon interjected by Union Minister Venkaiah Naidu who said 'everybody knows PM Modi is the saviour of the poor'.
While Chairman Hamid Ansari repeatedly attempted to stop Mayawati as her time was over, she refused to heed and continued speaking.
11. 48 am: PM Modi to introduce new ministers
Prime Minister Narendra Modi is introducing newly-appointed ministers to his Cabinet and Council of Ministers.
Prakash Javadekar, Vijay Goel, Anil Madhav Dave,  Fagan Khulaste, SS Ahluwalia, Ramdas Athawale and MJ Akbar among others are the newly inducted Union ministers. Javadekar, however, has been a ministers in the Narendra Modi government.
11. 42 am: House condemns terror attacks across the globe
"The recent terror attacks are deplorable and need to be condemned in the strongest manner. We must eliminate scourge of terrorism from the world. The House stands by the people of Iraq, France, Turkey, Bangladesh, Saudi Arabia and others at this time of grief."
The House maintained a minute of silence in respect of those who lost their lives.
11. 40 am: Flash floods – Rajya Sabha express condolences 
The House paid its condolences to those who lost their lives during the cloud burst in Uttarakhand as well as the flooding in several parts of the country including Assam and Madhya Pradesh.
11.37 am: Praise for ISRO
Rajya Sabha Chairman Hamid Ansari, on behalf of the House, congratulated ISRO for its successful flight-tested re-usable launch vehicle technology. The House also praised the launch of 20 satellites at one go, including India's Earth Observation satellite.
Ansari said the credit for both these launches goes to the scientific community working with ISRO.
11. 28 am: Our coverage of the Monsoon Session
To read our reportage of the on-going Monsoon session of Parliament, click here.
11. 25 am: DMK's TKS Elangovan takes oath in Rajya Sabha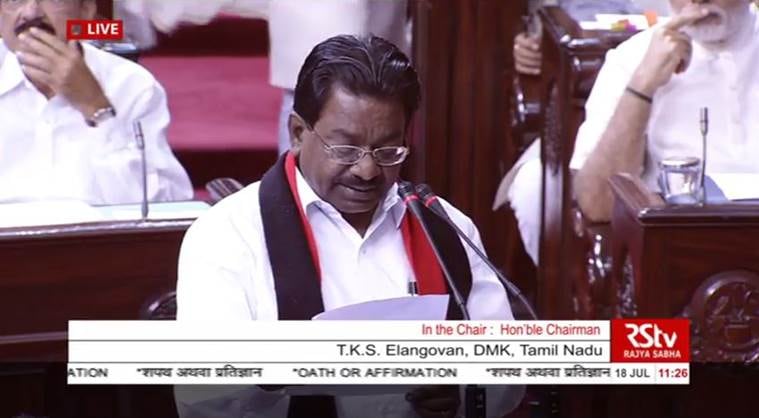 Rajya Sabha MP TKS Elangovan takes oath. Image: Rajya Sabha TV
11.20 am: Live stream – Rajya Sabha proceedings
For those interested in watching the proceedings live, you can click on the broadcast below.
11.17 am: PM Modi moves to Rajya Sabha
As Lok Sabha was adjourned for the day, Prime Minister Modi moved to Rajya Sabha to witness the oath taking ceremony. The new MPs are being administered oath state wise. Several MPs from Maharashtra and Punjab took oath in Marathi and Punjabi respectively.
11.14 am: PM Narendra Modi's new ministers
Prime Minister Narendra Modi introduced to Lok Sabha, the new ministers in his Cabinet. The Prime Minister had reshuffled and expanded his Council of Ministers on July 5, 2016.
11.10 am: Lok Sabha adjourns for the day
Lok Sabha adjourned for the day after Prime Minister Narendra Modi introduced his new ministers. Speaker Sumitra Mahajan paid tribute to Dalpat Singh Paraste, Lok Sabha MP from Shahdol in Madhya Pradesh who passed away on June 1 as well as six other former MPs who passed away recently. The House will meet Tuesday at 11 am.
11.00 am: New Rajya Sabha MPs take oath
Newly elected Members of Parliament took oath in the House. Among those were senior Congress leader P Chidambaram and Union Minister Piyush Goyal and NCP leader Praful Patel, who was cheered by members of the House.
10.25 am: PM Modi arrives at Parliament House
Prime Minister Narendra Modi has arrived at Parliament. Speaking to reporters, he reiterated what he said yesterday at the all-party meeting: "I spoke to all parties over the past few days, everyone is in the mood to further development. Hope we are able to take right decisions to help the nation progress faster and hope the session observes high standards of discussions and important decisions are made."
[Source:- The Indian Express]