Samsung Galaxy S21 FE rumored release date, price, specs and colors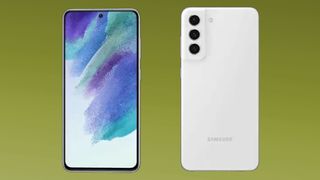 The Samsung Galaxy S21 FE is an exciting potential option for anyone who wants some flagship-worthy features on their phone, but doesn't fancy paying the extra required for a Samsung Galaxy S21.
Like last year's Samsung Galaxy 20 FE, the next "Fan Edition" phone is likely to have a less premium take on the Galaxy S21's design and have a slightly less powerful camera array. But it could still sport powerful components such as the Snapdragon 888 chip and 120Hz display for a price that's potentially cheaper than last year's $699 FE model.
The best phones right now
iPhone 13 Pro Max vs Samsung Galaxy S21 Ultra: Which phone wins?
As we get closer to the rumored launch, here's what we know so far about the Samsung Galaxy S21 FE.
Samsung Galaxy S21 FE latest news (Updated October 27)
A support page for a device the model number SM-G990B/DS has popped up on Samsung's Irish website and seemingly hints that the Galaxy S21 FE could be gearing up for launch.
The Samsung Galaxy Unpacked Part 2 event has come and gone without a mention of the Galaxy S21 FE, so we would not expect this phone anytime soon.
A suite of leakers have all agreed that the Samsung Galaxy S21 FE is set for a January 2022 launch; but would this be a case of too little too late?
Samsung Galaxy S21 FE release date
samsung galaxy s21 fe renders rear
(Image credit: LetsGoDigital)
The latest rumor is that the Galaxy S21 FE could launch alongside the Samsung Galaxy S22 launch in January, so we would not expect this phone in 2021 for now. Perhaps Samsung will simply jump to a Galaxy S22 FE name to complement the regular Galaxy S22?
A support page for a device with the the model number SM-G990B/DS recently appeared on Samsung's Irish website and has been linked to the Galaxy S21 FE. This could mean the phone is gearing up for a launch, likely early next year.
Samsung Galaxy S21 FE price
While the S20 FE was positioned as a less expensive version of the Galaxy S20 in that lineup, it was by no means a cheap device. It launched with two varieties, a 4G and 5G model. The 5G Galaxy S20 FE cost $699 / £699 / AU$1,149, whereas Samsung priced the 4G model, which skipped out on a US release, at £599 / AU$999.
However, due to the fact that the S21 launched at a lower initial price point than the S20, we'd expect to see the S21 FE pitched at a comparatively smaller price in order to keep the continuity of the range. This theory has been backed up by reports from Korea suggesting the S21 FE will launch at around $100 cheaper than its predecessor.
Samsung Galaxy S21 FE design rumors
Samsung Galaxy S21 FE renders
(Image credit: OnLeaks)
The Samsung Galaxy S21 FE is tipped to look a lot like the Galaxy S21 and Galaxy S21 Plus, only with a less premium finish and likely a heavier use of plastic materials.
We can see this in various render images based on leaks. with the phone still using the Contour Cut camera design but with no metallic edges. Expect the display to sit at around 6.4 inches and make use of a punch-hole selfie camera.
Samsung Galaxy S21 FE renders
(Image credit: Evan Blass / Twitter)
Renders from Evan Blass, which he later followed up with 360-degree GIFs, also give us a look at the phone's potential design, including its color options. If accurate, these renders suggest the phone will be available in black, white, lavender and olive green versions.
Advertisement
samsung galaxy s21 fe
(Image credit: Evan Blass)
A different leak from Android Headlines showed off marketing materials that appeared to come directly from Samsung.
galaxy s21 fe
(Image credit: Android Headlines)
Based on that Galaxy S21 FE leaked image, we can get a better sense of the colors Samsung is planning for this phone. That image shows off four colors — violet, light green, gray and white. Three of those options — everything but the light green — were Galaxy S21 colors as well.
Analyst Ross Young, meanwhile, says that there will be six colors: Navy, Lavender, Mint, Red, White and Orange.
Samsung Galaxy S21 FE specs
The Galaxy S21 FE is tipped to feature a Snapdragon 888 chip in the U.S., according to recent Geekbench results, and there could also be an international version with an Exynos chip.
Advertisement
Specs found in the Google Play store have backed up the expectation that the S21 FE will use a Snapdragon 888, but with 6GB RAM instead of the 8GB, 12GB or 16GB found on the other S21 models. It also tells us the phone will have an FHD display.
It also seems that the S21 FE will be 5G-ready, run Android 11, and come with a choice of 128GB or 256GB of storage.
The front camera is set to pack in a 32MP sensor. That's the same resolution as the Galaxy S20 FE, and significantly higher than the 10MP front camera on the Galaxy S21 and S21 Plus.
Based on regulatory filings in China, a listing for a phone thought to be the S21 FE indicates support for 25W charging.
Information found within the listings of Chinese regulator TENAA has apparently confirmed many of these previous leaks, if the SM-G990B device is indeed the S21 FE. It also claims that the rear cameras on the S21 FE will comprise of a 32MP main camera, a 12MP ultrawide and an 8MP telephoto. However, it contradicts previous rumors with regards to the selfie camera, which it says will use a 12MP sensor.
The final important detail from TENAA is the battery capacity of the S21 FE: apparently 4,370 mAh. That's more capacity than the 4,000 mAh battery in the Galaxy S21, but quite a ways behind the 4,800 mAh battery in the Galaxy S21 Plus.
Samsung Galaxy S21 FE: What we want to see
Samsung Galaxy S20 FE colors
The Samsung Galaxy S20 FE made a few subtle improvements over the Galaxy S20, we hope the Galaxy S21 FE follows suit. (Image credit: Samsung)
No more plastic: While the Galaxy S20 FE's plastic back was far from bad, we'd have rather a glass or metal rear for the phone; after all other handsets in the same price range like the Google Pixel 5 manage that. This is one area we don't expect the S21 FE to fix, but we can dream.
Better cooling: The Galaxy S21 range runs hot — potentially too hot. Some users are already complaining that their handset gets uncomfortably warm, especially when playing graphically intensive games. We'd love the S21 FE to keep things a little more chilled.
Faster charging: Samsung originally offered a 45W charger option on the Galaxy S20 Ultra, but walked that back on the S21 range, which maxes out at 25W. A recent leak points to Samsung producing a 65W charger and we'd love the S21 FE to be the first device to support the accessory, even if you have to buy it separately.
Advertisement
More battery life: We might not need faster charging if the Galaxy S21 FE can improve on the Galaxy S21's somewhat underwhelming battery. In our battery test, the standard S21 lasted for 9 hours 53 minutes, dropping to just 6 hours 31 minutes with the adaptive refresh rate enabled. The S20 FE improved on its predecessor's battery, we hope the S21 FE does the same.
No 4G-only model: It's 2021, so it's time to ditch 4G-only devices in this category. The Galaxy S20 FE 4G model didn't release at all in the U.S., and we expect that the Galaxy S21 FE will probably take that a step further and nix a 4G model completely. We know from the leaks that the phone is going to be 5G-ready, so this doesn't seem like an especially outlandish request.
["source=tomsguide"]
Tags: and, colors:, date, FE, Galaxy, price, release, rumored, S21, Samsung, specs