Trump's first week: Well, that was intense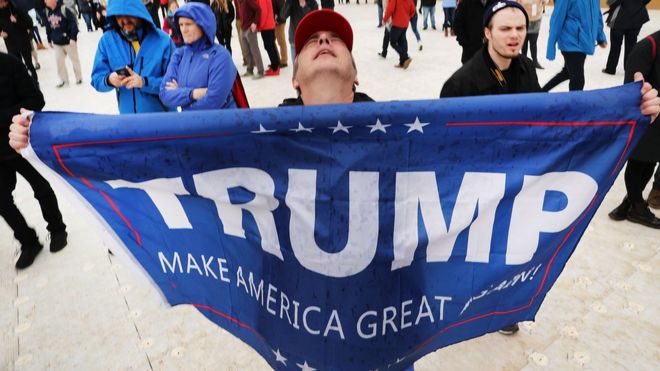 Donald Trump promised that he would deliver big things for the American people from the moment he came into office. To call his first week "yuge", as he might say, would be an understatement.
Mr Trump's first seven days in office have seen a flurry of executive orders, a war declared by his team on the mainstream media, some of the largest protests ever held in the United States, and the coining of a term – "alternative facts" – that could come to define the White House under his tenure.
The BBC website has published more than 200 stories and videos about or relating to President Trump since inauguration day.
It's been a busy week.
---
Day One: American carnage
---
In retrospect, this was the calmest day of them all.
With his hand resting on two Bibles – one his own, the other used by Abraham Lincoln in 1861 – Donald John Trump was sworn in as US President, the first man to hold the office without either political or military experience.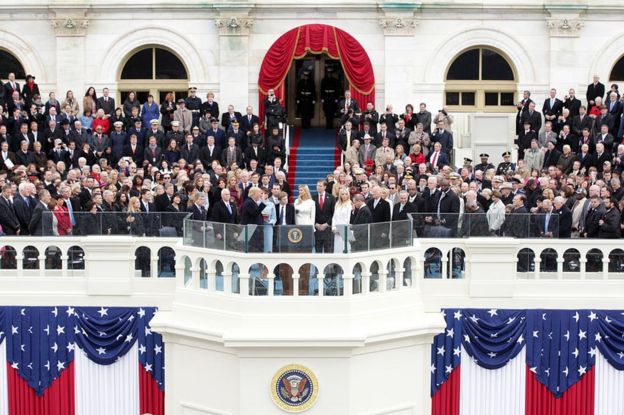 Earlier in the day, Barack Obama was captured through a window leaving a letter for his successor in the top drawer of the Oval Office desk. What did it say? We don't know and President Trump won't say.
Addressing the nation at the ceremony, President Trump spoke in fairly bleak terms of rusted-out factories, poverty-stricken families and crime-blighted cities, vowing to end "this American carnage"
"This was not a message to the American people as a whole – many of whom likely feel the past resident of the White House, Barack Obama, reflected their beliefs and their diversity," our correspondent Anthony Zurcher wrote.
"This was a speech for the angry, the frustrated, the American voters who turned out in places like Pennsylvania, Michigan, Florida and Ohio to shake their fist at the status quo and take a chance on a man who was unlike any presidential politician who came before him."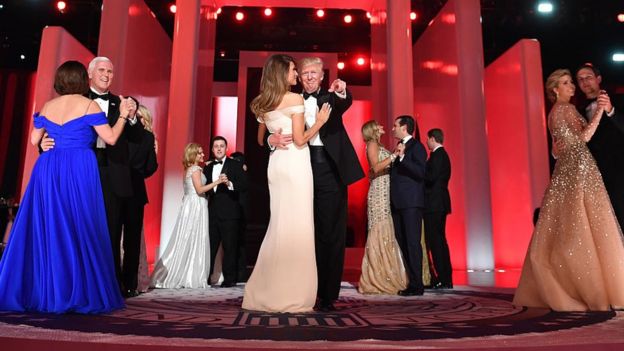 As the Obamas left for a holiday in Palm Springs, a new era in politics began. Take a deep breath now…
---
Day Two: My crowd's bigger than your crowd
---
While many protests were held on inauguration day around the world, including one in Washington that spiralled into violence, Saturday 21 January saw a remarkable global expression of opposition to the Trump administration and its perceived world view.
Millions of people turned out to demonstrate at "Women's Marches" in cities around the world to make their voice heard on women's reproductive rights, gender, sexual and racial equality.
But as protests continued, President Trump gave an extraordinary press conference at the CIA headquarters, telling staff that the media had fabricated a "feud" between him and the intelligence agencies, despite previously tweetingthey were acting as if the US was Nazi Germany.
Standing in front of the CIA's hallowed memorial wall, which honours agency employees who died in service, he also complained about reporting of the crowd size at his inauguration, and unflattering comparisons to the turn-out at Barack Obama's own ceremony in 2009.
INTERACTIVE
The National Mall
Trump: 12:01pm local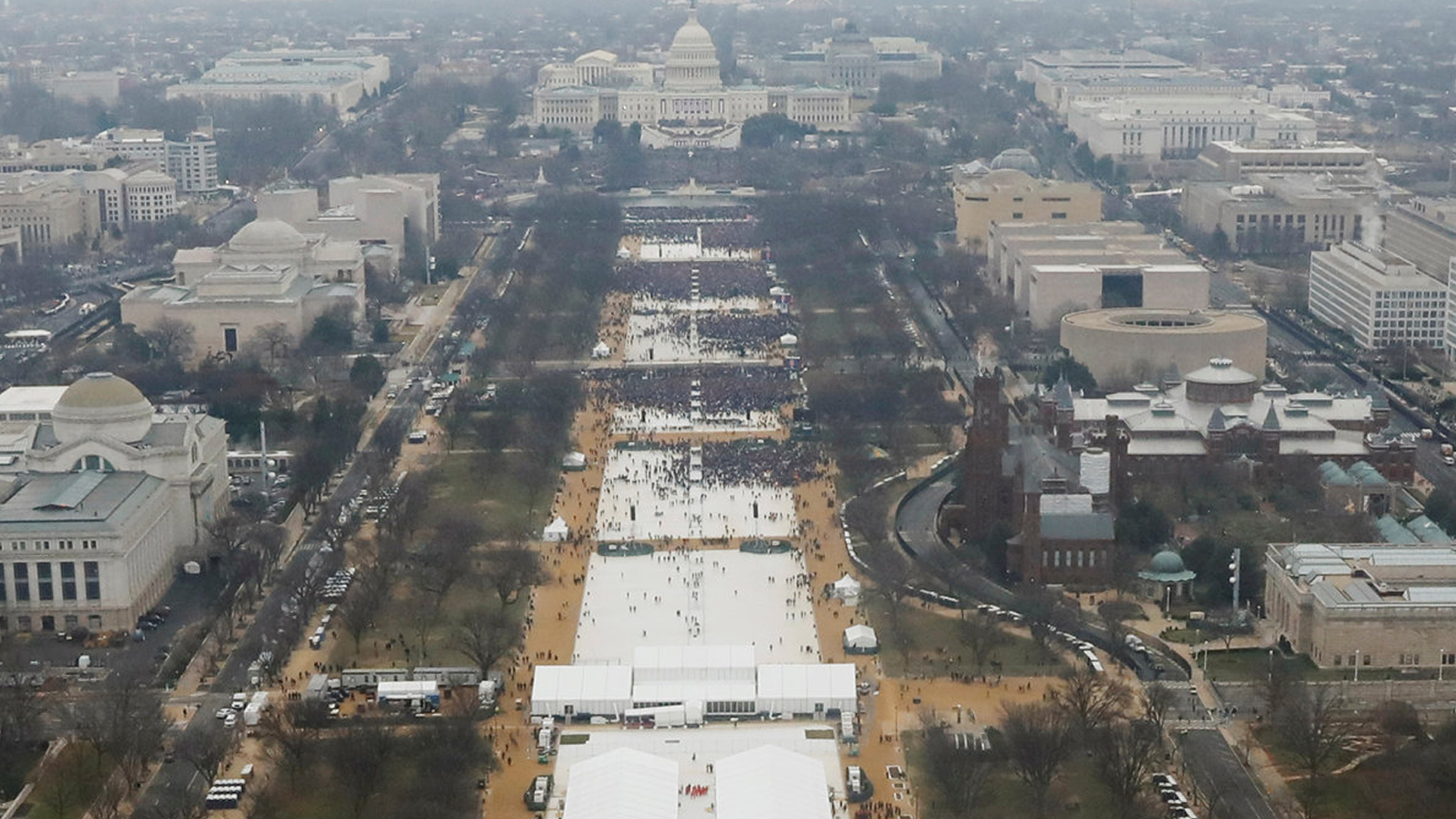 Obama: 12:04pm local
What followed saw "post-truth" politics kick into high gear.
Trump dispatched his combative new press secretary Sean Spicer to lambast the media in a televised briefing.
He said no-one had any crowd estimates from the inauguration before then giving his own crowd numbers – saying that the space holding 720,000 people was full when the oath was taken. This, he claimed, "was the largest audience to witness an inauguration, period. Both in person and around the globe".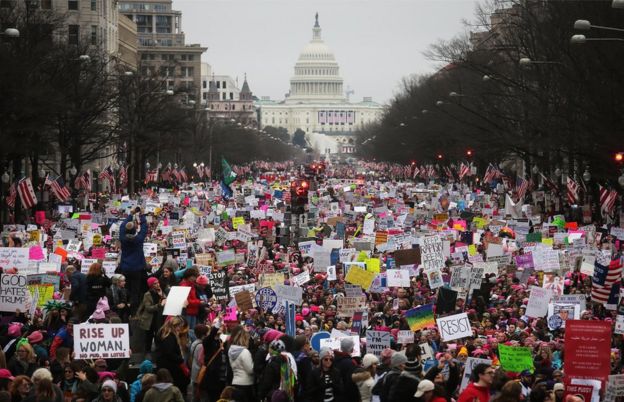 He also falsely said the number of people taking Washington's subway system on the day had been higher than during Barack Obama's second inauguration in 2013.
---
Day Three: A fact is no longer a fact. And that's a fact.
---
In a television interview on Sunday, Trump counsellor Kellyanne Conway defended Spicer's inaccurate claims, thereby introducing the world to the term "alternative facts", which is how she described what he said.
"Alternative facts are not facts. They are falsehoods," NBC presenter Chuck Todd replied.
The internet, of course, delivered an outpouring of #Spicerfacts.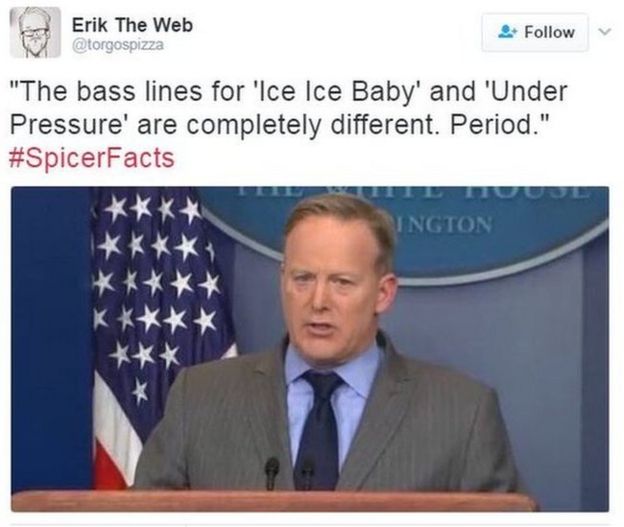 Meanwhile, the president himself was praising Barack Obama at a ceremony to swear in senior members of his team.
The first working day of the Trump administration kicked off with meeting between the president and business leaders, during which Trump announced his aim to cut regulations for US-based businesses by 75%.
A clutch of executive actions followed. He pulled the US out of the 12-nation Trans-Pacific Partnership trade deal, a key part of Obama's efforts to engage and divert attention to the Asia-Pacific. Australia swiftly said it wanted to try to keep the deal alive with a so-called 'TPP 12 minus one'
Trump also banned federal money going to international groups which perform or provide information on abortions.
The US president's order shows he "wants to stand up for all Americans, including the unborn," his press secretary Sean Spicer said.
This picture went viral.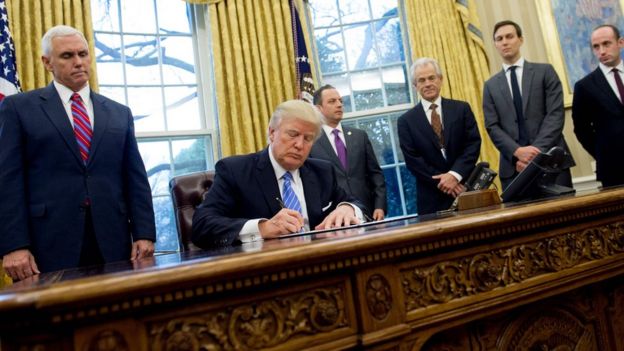 "As long as you live you'll never see a photograph of 7 women signing legislation about what men can do with their reproductive organs," Guardian social editor Martin Belam said on Twitter. More than 260,000 people re-tweeted his thoughts.
If the day wasn't busy enough in Trump news, a group of US ethics lawyers had filed a lawsuit against the president, alleging he is violating a constitutional ban on accepting payments from foreign governments through his hotels.
Mr Trump described the lawsuit as "totally without merit".
Oh, and he implemented a hiring freeze on some federal government workers.
---
Day Five: Mmmm, oil
---
The barrage of executive actions continued on Tuesday, with two orders signed to back controversial oil pipelines – Keystone XL and the Dakota Access project – if American steel is used.
The Standing Rock Sioux Tribe, whose land abuts the proposed route of the Dakota Access pipeline, called Mr Trump's decision a violation of "law and tribal treaties".

Environmentalists said Trump was proving as dangerous to the climate as they had feared. Oil industry groups applauded.
Separately, Sean Spicer sparred again with reporters, this time over Trump's claims that millions of illegal voters cast ballots in the election despite no evidence suggesting so.
Mr Pena Nieto cancels the meeting after Trump says it would better not be held if Mexico refuses to cough up.
The White House then suggests a new 20 percent tax on Mexican imports could fund the barrier, but this is rubbished by Mexico's Foreign Minister Luis Videgaray, who says that such a move would only shift the costs burden onto US consumers.
While the US-Mexico drama unfolds, UK Prime Minister Theresa May arrives in the US, joking that "opposites attract" and saying she wants to "renew the special relationship" between the UK and America.
Separately, former US Secretary of State Madeleine Albright vows to register as Muslim if Trump creates a register of Muslim-Americans.
Have a relaxing weekend, everyone!
[Source:-BBC]