Turkey blast: At least 6 killed, over 120 wounded in PKK car bomb attack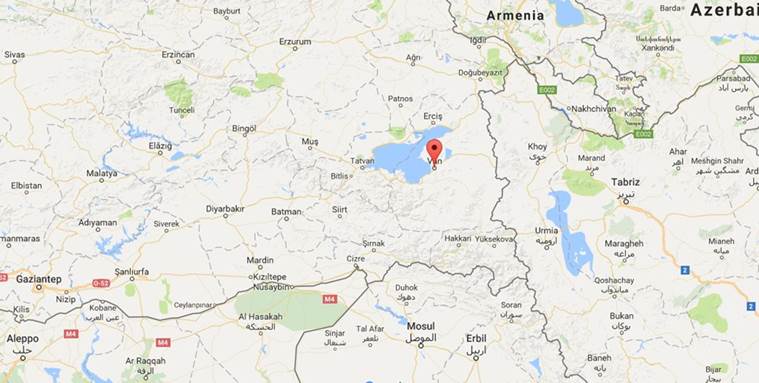 At least six people were killed and over 120 injured after two car bombs targeting police stations exploded in  Turkey. A car bombing attack on a police station in the eastern province of Van late Wednesday killed a police officer and two
civilians. Dozens of other people, including some 20 police officers, were wounded, officials said.
The attack targeted a police headquarters in the central Ipekyolu district of Van city, Van governorate official Mehmet Parlak was quoted as saying by the state-run Anadolu news agency, blaming the "regional terror group", the official phrase for the PKK.
Hours later, another car bombing hit police headquarters in the eastern Turkish city of Elazig early today, killing at
least three police office officers and wounding close to 100 people, the state-run Anadolu Agency said.
The attack comes a few days after six people were killed when a car bomb was detonated in Diyarbakir city located in South East Turkey. Two civilians and four police officers were among the dead. The Turkish authorities blamed the PKK for the attack.
Anadolu said that after the bombing police were sent to the scene, identifying a militant named MO suspected of bringing the car bomb in front of the police station. He had been wounded and was detained and taken to the main police headquarters in Van city for questioning, it said.
Turkey has been the target of numerous attacks by the PKK militant outfit. The group has been blamed by the Turkish government for waging war against the country. The PKK claims to fight for self determination of Kurds in Turkey and has carried out numerous attacks chiefly targeting Turkish military units. PKK has also been involved in clashes against the Turkish military since the collapse of a ceasefire in 2015.But Van, a city with a mixed Kurdish and Turkish population and a popular tourist destination, has generally been spared the worst of attacks like those seen in the nearby city of Diyarbakir.
Although the PKK has been designated a terrorist organisation by Turkey, NATO and the US, it has been given the designation by the United Nations adn countries like India, China, and Russia. Other than being involved in an insurgency in Turkey, the PKK is also active in the Kurdish regions of Iraq and Syria. Due to their presence in both the countries, they have engaged the Islamic State on numerous occasions.
Tens of thousands of people have died in the conflict since the PKK took up arms for autonomy in southeast Turkey in 1984. Turkey and its allies consider the PKK a terrorist organization.
[Source: The Indian Express]
Tags: 120, 6, At, attack:, blast:, bomb, car, in, killed, least, over, PKK, Turkey:, wounded