Turkey purges 13,000 police officers over failed coup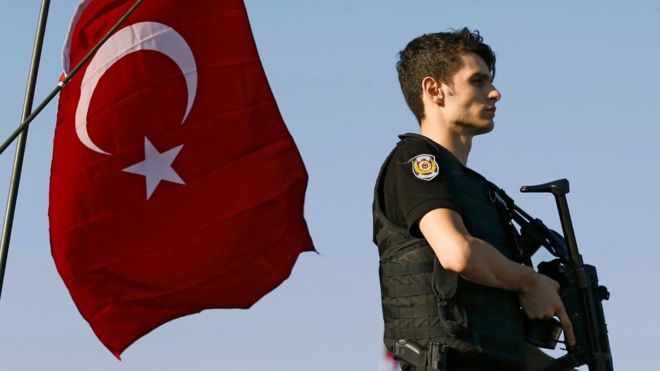 Turkey has suspended almost 13,000 police officers for their alleged links with the US-based Muslim cleric, Fethullah Gulen.
The latest wave adds to the 100,000 or so civil servants dismissed or suspended since July's failed coup.
Mr Gulen denies the government's accusation that he or his supporters orchestrated the coup.
The government in turn rejects claims it is using the coup as an excuse to get rid of its opponents.
It insists those without proven links to the coup will be freed.
Turkey post-coup purges convulse society
More than 2,500 officers whose suspensions were announced on Tuesday were police chiefs, said Turkish national police in a statement.
It comes hours after the government announced that a state of emergency imposed shortly after the failed putsch would be extended by three months when it expires on 19 October.
The emergency allows the president and cabinet effectively to rule by decree, bypassing parliament when drafting new laws and able to restrict or suspend rights and freedoms.
There are fears that under the state of emergency – and in a country where judicial independence has plummeted – opponents are being rounded up with little chance to clear their name, says the BBC's Mark Lowen in Istanbul.
He says the depth of the purge is staggering, with thousands suspended, dismissed, detained or arrested – from teachers to soldiers, police to judges, aircraft pilots to journalists.
More than 130 media outlets have also been shut down.
Turkish authorities have repeatedly appealed to the US to extradite Mr Gulen and say they have presented documents proving his involvement in the coup bid.
Over the weekend, Mr Gulen's brother was detained by police in western Turkey – the latest relative to be held. Mr Gulen's two nephews were detained in July and August.
Mr Gulen's lawyers insist he had no involvement in the coup attempt, and say he will not have a fair trial if extradited to his homeland.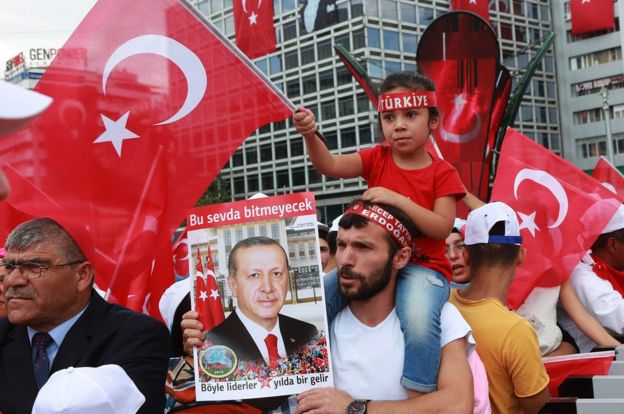 [Source:-BBC]
Tags: 000, 13%, coup', Failed, Officers, over, police, purges, Turkey: