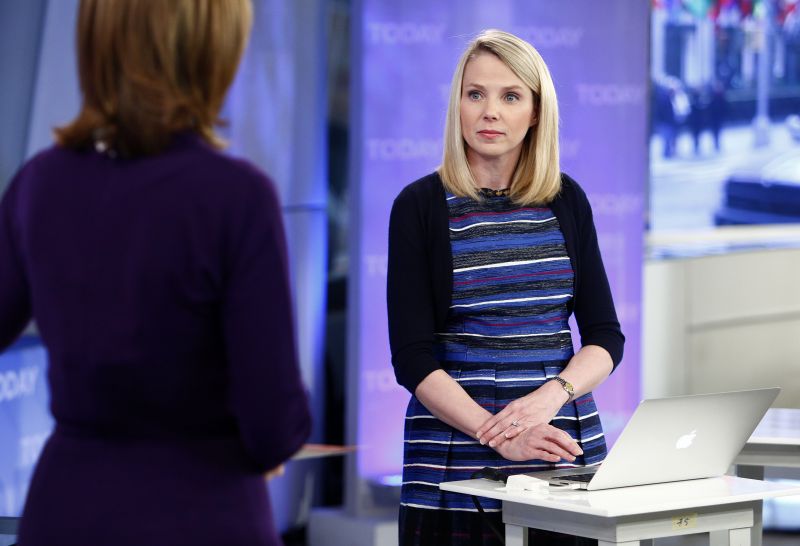 For Yahoo, it's nearly all over but the shouting. Final bids were expected Monday in the protracted sale of the core Internet business at Yahoo – and it likely won't be long before we know the fate of both the faded Internet company and its embattled CEO, Marissa Mayer.
When the shouting does come, it's likely to include even more analysis about Mayer's tenure – what her time at the helm will say about women in technology, what she could have done differently, how she might spend the $55 million in severance she could receive in the event of a change in control. Many will fault some of her big decisions: Big bets that didn't pay off, such as the $1.1 billion acquisition of the blogging service Tumblr, and key hires who didn't pan out. She promised the Web browser Mozilla a lucrative change-in-control deal that could cost bidders more than $1 billion, reports say. A Yahoo spokesperson did not immediately respond to a request for comment.
But others will say that Mayer, like other women before her in technology, was dealt a tough hand in the first place, accepting a particularly precarious leadership role often known as the "glass cliff." Research has shown that women disproportionately receive opportunities to lead at difficult times, and the tech sector would seem to have a preponderance of examples.
When Meg Whitman was named CEO of HP in 2011, the Silicon Valley giant was dealing with a string of recent scandals, instability at the top, strategic questions about a spinoff of its PC business and a massive acquisition that would turn out to be ill-fated. When interim Reddit CEO Ellen Pao resigned amid a petition for her ouster and uproar over anti-harassment changes she made, the online community's chief engineer said she'd been placed on the "glass cliff." Back in 2001 when Anne Mulcahy was named CEO of Xerox, the company was on the verge of bankruptcy and facing an SEC investigation.
But experts on leadership and gender say it's not clear whether the dynamic really does play out more often in tech than in other fields. "We don't know if women face the glass cliff in tech more than other industries," says Marianne Cooper, a sociologist at the Clayman Institute for Gender Research at Stanford University. "If we had 500 women [in tech CEO jobs] it would be a different story. But when so few women get to the top, it's important to look at the individual circumstances in which they're taking the reins."
In fact, it may be that women actually get fewer crisis opportunities, rather than more, among Internet companies. That's because with these firms, the founder is often brought back to lead when the going gets tough. And those founders often happen to be disproportionately male. Think Twitter, Zynga,Tinder, and Pandora, all of which brought their founders back to the helm at some point within the past year and a half.
"We can go through the companies that have stumbled, and they nearly all reverted to a white male founder," says Freada Kapor Klein, a partner at Kapor Capital and long-time advocate for diversity in the tech industry.
Sukhinder Singh Cassidy, a former Google executive who founded theBoardlist, an online marketplace that connects tech boards of directors with women candidates, said in an interview that in tech, "my presumption is that when the ship is going down, the person on the hook is the founder." Indeed, she said, the number of CEO jobs at bigger Internet companies available to non-founders tend to be somewhat rare – and often challenging.
"In [Silicon] Valley, the vast majority of large and profitable companies are run by the founder," she said. "What's left has a certain amount of hair on it."
Of course, Yahoo had already tried bringing its founder back to the job – Jerry Yang ran the company in 2007 and 2008, famously rejecting an offer to be acquired by Microsoft. But even if Mayer's job has frequently been suggested as an example of the "glass cliff," it's hard to see it as a textbook case. Yahoo was struggling long before Mayer took control, and both male and female executives had already been among those tapped to try and right the aging Internet company's fortunes.
Jana Rich, a leading Silicon Valley recruiter, said she's never had boards of directors explicitly ask for, or even hint at, specifically wanting a female candidate at a time when a company is in trouble. But she says she does see women or minorities, who may realize they don't have the luxury of picking and choosing the most plum assignments, put themselves forward more often for particularly challenging jobs. She's careful to say this doesn't mean these candidates are less qualified: "A board for a distressed company is looking for the best possible alternative, and sometimes the best possible alternative is a person who's willing to take that risk."
Whatever the circumstances may be when women leaders are brought in, Yale School of Management professor Jeffrey Sonnenfeld says that in the tech field, women are often "given a shorter time frame to show success," facing potential backlash in a field that's predominantly male. It doesn't help that tech turnarounds are notoriously hard, with all leaders facing the difficult task of fixing a business in an industry known for its hyper-speed rate of change.
Stanford's Cooper says that even if the glass cliff dynamic only affects a few women at the top, the relatively small number of women in top jobs in technology overall means that's "still a large percentage of women." And "when there are so few women in leadership positions, all eyes are on them."
[Source:-Gadget 360]