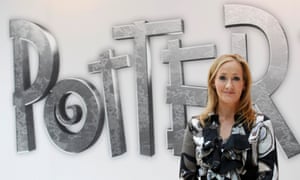 The Harry Potter author JK Rowling has shared some withering rebuffs publishers sent to her alter ego Robert Galbraith, in an effort to comfort aspiring authors.
Rowling posted the rejection letters on Twitter after a request from a fan. They related to The Cuckoo's Calling, her first novel as Galbraith. But Rowling also saw Harry Potter turned down several times before the boy wizard became one of the greatest phenomena in children's literature, with sales of more than 400m copies worldwide.
Asked how she kept motivated, she tweeted: "I had nothing to lose and sometimes that makes you brave enough to try."
When she pitched under the name Galbraith without revealing her true identity, she faced many more snubs. Since then, Galbraith has published three successful novels but the first was rejected by several publishers, and Rowling was even advised to take a writing course.
Rowling erased the signatures when she posted the letters online, saying her motive was "inspiration not revenge". She did not reveal the full text of the most brutal brush-off, which came by email from one of the publishers who had also rejected Harry Potter.
Rowling said she could not share the Potter rejections because they "are now in a box in my attic" before offering the Galbraith letters. The kindest and most detailed rejection came from Constable & Robinson, who – despite the advice about a writing course – included helpful tips on how to pitch to a publisher ("as on book jackets – don't give away the ending!"). The publisher added: "I regret that we have reluctantly come to the conclusion that we could not publish it with commercial success."
The short note from publishers Crème de la Crime said the firm had become part of another publishing group and was not accepting new submissions.
When The Cuckoo's Calling eventually found a publisher in 2013, it was achieving respectable sales before the secret of its authorship broke, and it then shot to the top of the bestseller lists.
Joanne Harris, author of a string of hit novels, joined the Twitter discussion to say she had so many rejections for her 1999 book Chocolat, later adapted as a Hollywood movie, that she had piled them up and "made a sculpture".
Rowling, Harris and their literary disciples are in excellent company. Eimear McBride, the 2014 Bailey's prizewinner for her first novel A Girl is a Half-formed Thing, accumulated a drawer full of rejection letters before a chance conversation led to her book being published by Galley Beggar, a tiny independent publisher in Norwich.
James Joyce's epic masterpiece Ulysses, regarded as one of the greatest Irish novels, was repeatedly rejected by baffled publishers before finally being published in a tiny edition in Paris in 1922 by his friend Sylvia Beach's Shakespeare & Co bookshop: a copy of the first edition sold a few years ago for £275,000.
TS Eliot, in his role as an editor at Faber and Faber, turned down George Orwell's Animal Farm as "unconvincing". Joseph Heller's Catch-22 was rejected as "not funny on any intellectual level", and John le Carré's first spy novel, The Spy Who Came in from the Cold, was passed from one publisher to another with the withering comment: "You're welcome to le Carré – he hasn't got any future." Herman Melville's Moby-Dick attracted the memorable response "First, we must ask, does it have to be a whale?" It did.
[Source:- The Guardian]