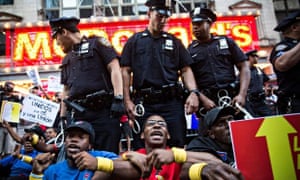 The US fast-food workers who protested in New York and 100 other US cities over the "poverty wages" paid by multinational burger chains are preparing their British counterparts to launch a similar direct action campaign in the UK.
Two months after the wave of US strikes and demonstrations that saw hundreds of arrests, Flavia Cabral, a McDonald's worker from New York City who earns $8 (£5.10) an hour, said she had come to the UK to "teach workers here how to rise up and fight".
Cabral is part of a band of US fast-food workers travelling to the UK, France, Argentina, Brazil, Japan, Denmark and the Philippines as part of plans to form a global alliance of fast-food workers and organise a day of coordinated international protest in April to demand that workers get paid a living wage.
Nick Allen, of US trade union federation Change to Win, said the globally-coordinated version of the US fast-food protests – which included occupying restaurant outlets and blocking roads – would be the biggest ever protest against low pay. "It will be a massive strike, much bigger than last time," he said. "And this time it will be global, not just the US."
The US workers and their union representatives, who launched the high-profile Fight for 15 campaign for fast-food workers to be paid $15 (£9.50) an hour, are touring the world teaching workers in other countries how to take direct action against their employers.
They have spoken to workers, politicians and union officials in London and Glasgow, and advised on the formation of a new British campaign, Fast Food Rights, which wants £10 an hour set as a minimum for UK fast-food workers.
"To take on global companies, the protest needs to be global. We need to take to the streets, unite together and stand up. If you ask for a raise, the management are going to say we haven't got any money," Cabral said at the rally. "We have to unite. We have to make it global, then it is not just you asking [for a pay rise], it is everyone around the world – and they will have to listen."
She pointed out that McDonald's workers in Denmark aged over 18 earn a minimum of 115 kronor an hour ($19.35, £12.35). "If McDonald's can afford to pay that in Denmark they should be able to pay more everywhere. It is the same work, but a huge difference in pay."
The UK campaign, which uses the slogan "hungry for justice", is supported by the Bakers Food and Allied Workers Union (BFAWU). As in the US, few UK fast-food workers are represented by unions.
Ian Hodson, president of the BFAWU, said: "Achieving £10 an hour would take 5 million people out of poverty. £10 is the minimum wage we demand in this country. We applaud what the Fight for 15 campaign has achieved in the US and we want to learn from them how we could make the same impact over here."
He said the US workers had given lessons on how to occupy stores and stop traffic safely. "If we can stop traffic in London we can certainly shut down some McDonald's, if they don't engage," he told a rally at the headquarters of the Trades Union Congress (TUC) in London. "This is about changing society and changing our country. This is not about left and right, it's about right and wrong, and we're right and they're wrong. They [UK fast-food workers] shouldn't have to hope for justice, they should be able to afford justice."
Hodson said the Fast Food Rights campaign was planning a couple of warm-up protests and sit-ins in December before joining the international day of action planned for April. The UK campaigners will also adopt successful US slogans, including: "They say supersize, we say unionsize."
The campaign is supported by Labour MPs John McDonnell and Jeremy Corbyn, who will lead a protest outside parliament on Friday.
McDonnell, the MP for Hayes and Harlington, said he would take part in protests and sit-ins on behalf of fast-food workers who might be afraid to protest against their employers. "They fear they will lose their jobs or have hours reduced if they protest, so we will bring in other people to demonstrate on their behalf," he said.
McDonnell said he approached the BFAWU, which represents many Greggs workers, to ask it to stand up for fast-food workers after management at McDonald's, Burger King and KFC refused to meet him to discuss workers' pay.
The BFAWU has launched a special membership rate for fast-food workers on zero-hours contracts at £1.09 a week.
The protest plans come as McDonald's marks 40 years since opening its first UK store in Powis Street, Woolwich, on 13 November 1974. There are now 1,249 McDonald's outlets in the UK.
The company recently announced it would hire an extra 8,000 people, mostly on zero-hours contracts – taking the UK workforce to more than 100,000 for the first time. The firm admitted last year that 90% of workers are on zero-hours contracts.
McDonald's pays under-18s a minimum starting rate of £4.35 an hour, rising to £5.15 for those aged 18-20 and £6.51 an hour for those aged 21 and over. The UK's hourly national minimum wage rates are respectively £3.79, £5.13 and £6.50.
A McDonald's UK spokesman said: "We fully support the national minimum wage. All our hourly paid employees start on more than the national minimum wage. In addition, our hourly paid employees receive an annual performance and salary review where they can earn an increase of up to 4.5%. These rates also apply to all those who choose to participate in our apprenticeship scheme."
A spokesman for the global business added: "McDonald's respects our employees' right to voice their opinions and to protest lawfully and peacefully. If employees participate in these activities, they are welcomed back and scheduled to work their regular shifts. We value our employees' wellbeing and the contributions they make to our restaurants, and thank them for what they do each and every day."
[Source:- The Guardian]