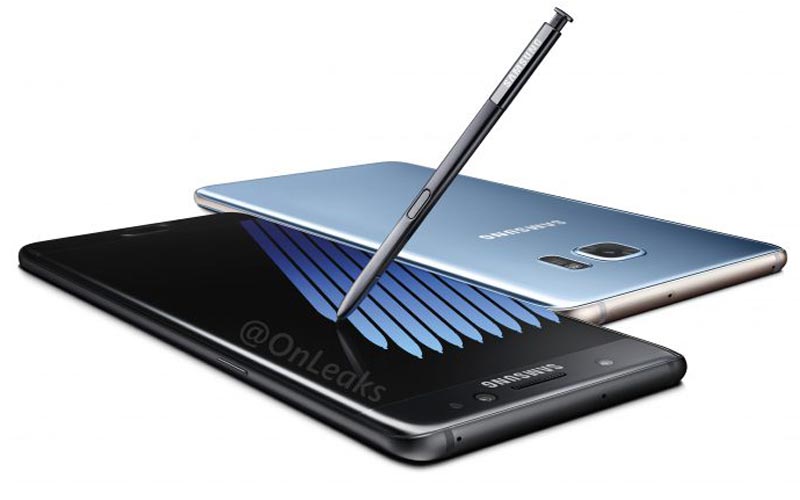 Samsung Galaxy Note 7 is all set to launch on August 2, which is tomorrow, at a special event in New York, and now press renders of the smartphone have leaked online. Of course this is not surprising, given Samsung Galaxy S7, S7 edge press renders were leaked just days ahead of the launch, and everyone knew what the smartphones would look like. The latest pictures of the Samsung Galaxy Note 7 were shared on Twitter by OnLeaks, and on the French tech website Nowwhereelese, which has also been putting out some serious iPhone 2016 leaks.
Samsung Galaxy Note 7's specifications have also been revealed by the website, which points out the dimensions of the new Note 7 as: 153.5 x 73.9 x 7.9 mm and 168 g as the weight. The smartphone will be water and dust-resistant, adds the report. Samsung's new Galaxy S7, S7 edge are also water and dust-resistant, and it's not surprising that the company is extending this capability to the Note 7 series.
Other specifications revealed by the website are: Android 6.0 with TouchWiz, with Edge display capability. It will have a 5.7-inch 2K Super AMOLED display with dual curved edge display, Exynos Octa-core processor, though there's a version with Qualcomm Snapdragon 820 processor on the cards as well.
Galaxy Note 7 will come with 4GB RAM, 12MP Dual Pixel camera with f/1.7 and OIS, similar to the one seen in the Samsung Galaxy S7 series. Interestingly they also claim Samsung will go with reversible USB type-C charger and 3500 mAh battery in the Note 7, although earlier leaks claimed a battery size of 4000mAh. Samsung has not introduced Type-C USB with S7 series, so it will be a big shift if they decide to include this in the Note S7 smartphone.
Earlier a full fledged video showing the device was shared on Weibo. The video showed a South-Korea based model of the Galaxy Note 7, which looks a lot more like the premium Samsung Galaxy S7 and S7 edge smartphones. According to the leaked video, this version of the Samsung Galaxy Note 7 runs the Exynos 8890-SOC, with an ARM Mali-T880-GPU and 4GB LPDDR4 RAM.
A leaked image of the Samsung Gear VR new.
Other leaked images of Samsung Galaxy Note 7 have highlighted a new upcoming feature on the phone: An Iris Scanner. Android Authority had shared screenshots showing the new Samsung Grace UX interface in the Iris scanner, and how users can unlock the smartphone with this feature. Iris scanner as a feature has long been rumoured on Samsung's flagship phones, and it looks like the Note 7 will finally bring this one to life.
Also pictures of a new Gear VR headset with bigger dimensions and a Type-C USB compatibility have also been leaked by OnLeaks on Twitter. Samsung's Gear VR is powered by Oculus software, and Facebook recently revealed that 1 million people per month are accessing the platform via the Gear VR headset.
We'll have to wait and see what special features and improvements are added to the S-Pen when the Samsung Galaxy Note 7 launches tomorrow. The event takes places in New York at 8.30 pm IST, and the Note 7 should come to India soon after the official launch. Samsung is ditching Galaxy Note 6 in the line-up, and going with ahead with '7' in the title to keep this phone more in line with the S7 series.
[Source:- The Indian Express]