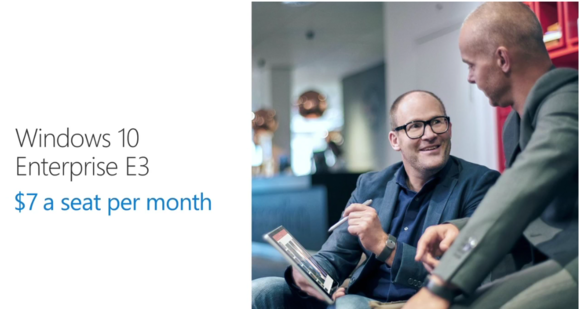 For over a year, Windows 10 customers have wondered whether Microsoft will offer Windows 10 as a service. On Tuesday, Microsoft confirmed that it would—though just for enterprises at the moment.
Beginning this fall, Microsoft will offer Windows 10 Enterprise E3, a special enterprise tier of Windows 10 that will cost $7 per user per month. Yusuf Mehdi, the corporate vice president of the Windows and Devices Group at Microsoft, said cloud providers would now be able to offer three premier Microsoft services on a subscription basis: Microsoft's Azure, Office 365, and now Windows 10.
"For the price of a cup of coffee and a donut per day, you can get enterprise-class security on a per-user subscription basis," Mehdi said onstage at Microsoft's Worldwide Partner Conference in Toronto, Canada. "If you're a cloud provider, this is now phenomenal."
Microsoft also struck a second deal with IBM to offer its Surface tablets as a service, essentially leasing them to customers on a per-month basis. Microsoft did not say which devices would be offered via the service, however, nor how much they would cost.
Why this matters: For almost as long as Microsoft has offered Windows 10 as a free upgrade, consumers have wondered two things: What would Microsoft charge for a full license to Windows 10, and what does the phrase "Windows as a service" actually mean? We now know: subscriptions. But we still don't know how (or if) this model will apply to consumers.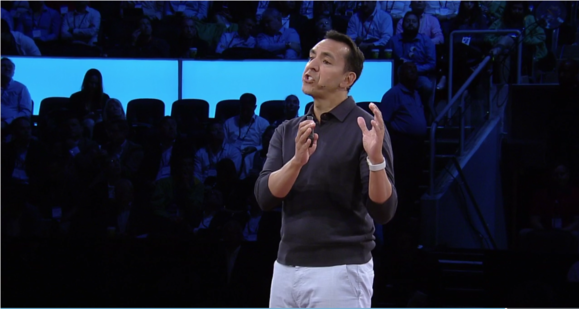 Windows as a (for now, optional) service
According to a Microsoft spokeswoman, the subscription deal is not in any way related to Microsoft's consumer offering. It's worth highlighting, though, that a business of one employee can take advantage of it, however.
"Windows 10 Enterprise E3 for CSP is for business customers of any size (including one person) to get enterprise features and functionality on a per monthly/per seat cost," a Microsoft spokeswoman said via email. "This new subscription model is not associated with our current upgrade offering or applicable to the Windows 10 consumer edition."
Right now, Windows 10 is still a free upgrade for Windows 7 and Windows 8.1 usersthrough July 29. After that, Microsoft will charge $119 for Windows 10 Home, $199 for Windows 10 Professional, and $99 for a Windows 10 Pro Pack to jump from a licensed copy of Windows 10 Home to the Professional version. A "one person" business who bought the subscription would receive about 28 months of Windows 10 before paying the equivalent price of Windows 10 Professional.
We know that Microsoft wants to encourage consumers and businesses alike to pay for its services like you pay the electricity bill, forking over a bit each month to keep the power on. Right now, Microsoft's flagship subscription offering is Office 365, its collection of Office applications that Microsoft patches and adds new features to each month. Microsoft vice president of corporate marketing Kirk Koenigsbauer told partners Tuesday that 70 million people pay to use Office 365 every month. When Microsoft reported its first-quarter earnings in April, Microsoft said about 22.2 million of those subscribers were consumers, and total Office commercial users were up 57 percent from a year ago.
Microsoft has also indicated it wishes to extend that same model to Windows.  A year ago, when chief executive Satya Nadella booted Stephen Elop from the Windows and Devices Group and handed the reins over to Terry Myerson, Nadella penned a veryinteresting rationale for how he saw Windows in relation to the rest of Microsoft hardware:
"WDG will drive Windows as a service across devices of all types and build all of our Microsoft devices including Surface, HoloLens, Lumia, Surface Hub, Band and Xbox," Nadella said in an email to employees. "This enables us to create new categories while generating enthusiasm and demand for Windows broadly."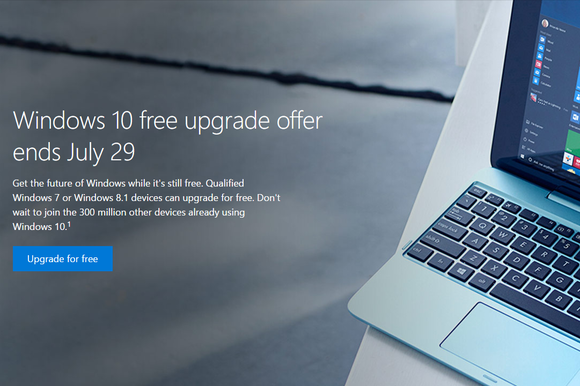 At the time, Microsoft executives made it very clear that buying a Windows license—or a device with Windows 10 on it—would ensure Windows owners had a license to Windows 10 for the life of the device. But Microsoft has also said that it wants to entice you to pay for additional services over that lifespan.
In December 2014, Microsoft chief operating officer Kevin Turner (who said July 7 that he'd leave the company to become chief executive of Citadel Securities) justified the rise of $99 Windows tablets by explaining that Microsoft would "monetize the lifetime of that customer through services and different add-ons."
The real question is whether Microsoft would enforce its services in some way. The company seemingly put these questions to rest a year ago, but an enterprise subscription model for Windows unfortunately reopens them.
Security as a service means little to consumers
If Mehdi's comments are to be taken as a model for how Microsoft plans to sell subscriptions to enterprises—ongoing security—then you can see why small businesses and especially enterprises might be interested: They need ongoing patches and security updates, even if they want control of when to deploy them.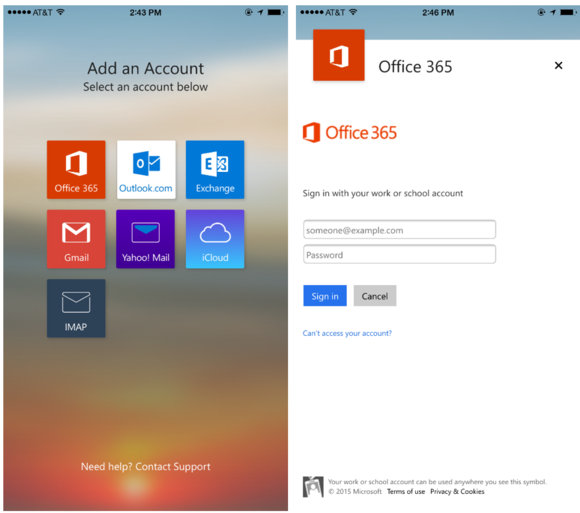 Consumers probably don't care as much. If Windows Defender were to be turned off or not updated, consumers could turn to a number of free alternatives from Avast, Panda, and others. A more pressing worry would be whether Microsoft would withhold patches and security updates unless consumers paid for them. This seems highly unlikely, given the potential security risks to the platform.
However, Microsoft has clearly stated it will cease patching and updating Windows 7 and Windows 8.1 in the next few years, spurring consumers and enterprises to migrate to its latest platform. Many consumers remain on Windows 7, an OS that launched seven years ago. If Windows 10 is the "last Windows," will Microsoft continue to support PCs in 2023?
A year ago, Microsoft opened the door to a great deal of speculation on how it would monetize Windows. Microsoft's new subscription model for enterprises raises those questions once again.
[Source:- PC World]